5 Facts About a Six Sigma Yellow Belt Certification
Lean Six SigmaSix Sigma Definition: Six Sigma is a set of techniques and t... Learn More... Yellow Belt certification training can be used by those who are just starting to learn Six SigmaSix Sigma Definition: Six Sigma is a set of techniques and t... Learn More.... Six Sigma Yellow Belt certification is the foundation for all Six Sigma preceding Belts. This certification is the best way to start your journey into Six Sigma. The cost of a LeanLEAN Definition LEAN is a production method aimed primarily ... Learn More... Six Sigma Yellow Belt certification training is well worth the investment.
Six Sigma Certification Courses are undoubtedly one of the most valuable courses you can take. This business processThere are many ways to organize your lean six sigma processe... improvement method opens up new opportunities for many and increases their knowledge of the industry. Six Sigma certification courses offer opportunities to manage unique projects and perform dynamic data analysis. Not all certifications are created equal.
Six Sigma uses a multi-tier structure that distinguishes certain "belts" from others. The six Sigma Yellow Belt is the first belt to attain if you are starting your Six Sigma Course.
Five Facts about the Yellow Belt
1. It's convenient
The Lean Six Sigma Yellow Belt is a short, intense course that can be accessed from anywhere.
2. It's perfect for beginners
This Lean Six Sigma Yellow Belt is our ideal "jumping-off point". This is where you can learn Lean 6 SigmaSix Sigma Definition: Six Sigma is a set of techniques and t... Learn More....
3. It is suitable for all backgrounds
No matter what career path you have taken, or where you are going, the skills and knowledge that you will learn during our Lean Six Sigma Yellow Belt program will be relevant.
4. It is delivered by certified Black Belts
Rave Reviews for Lean Six Sigma Trainers from Every Course (see the below for recent examples).
They have extensive hands-on Lean Six Sigma experience and strong Black BeltSix Sigma Black Belt A Certified Six Sigma Black Belt can be... Learn More... qualifications. In addition, they offer an engaging training method.
5. You will be awarded a Lean Six Sigma Yellow Belt certificate
During day 2 of the Yellow Belt Course, we hold an open book exam.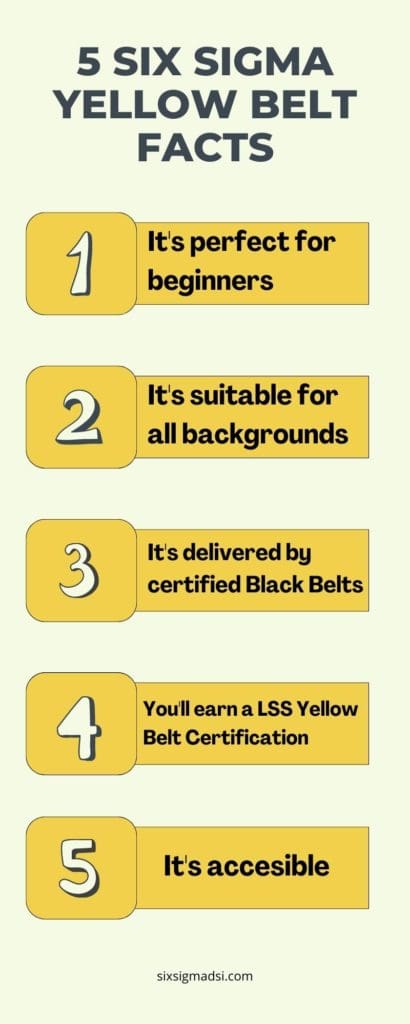 A Professional Development Six Sigma Yellow Belt Certificate will be awarded to you, which highlights the skills and knowledge that you have gained during training.
Six Sigma Yellow Belt
Why you're seeking Six Sigma certification. You will spend both time and money to become a Six Sigma Yellow Belt. This course will explain the basics of the Six Sigma Yellow Belt methodology, and when it can be used.
Sigma Six Yellow belts could play the role of entry-level representatives if they are more familiar with Six Sigma and DMAICDMAIC is an abbreviation of the five improvement steps it co... Learn More... concepts.
Six Sigma Yellow Belt professionals have the ability to practice and understand common Six Sigma tools. You are a valuable member of the Six Sigma team and must be able to identify and use basic tools such as Root Cause Analysis or Value Stream MappingWhat is a Value Stream Map? Six Sigma's Value Stream Map is ... Learn More....
Yellow Belts must be able to focus on one task at a time and follow instructions from project managers. These orders could include data mining, organizational tasks, or any other role that involves data analysis.
How Six Sigma Yellow Belts Ranked Compared to Others?
A Yellow Belt must have the ability to teach other employees Six Sigma. You will play a vital role in the team by helping others to understand Six Sigma and how they can benefit the project.
Each Six Sigma Yellow Belt professional must accept and acknowledge constructive feedback from their managers. The training and guidance they receive from higher-ranking belts are crucial for Yellow Belt professionals.
In general, Green Belts and Black Belts as well as Master Black Belts will oversee the lead roles in a project. They will closely follow orders and instructions from Yellow Belts.
Six Sigma Yellow Belt Professionals should be able to comprehend the PDCA methodology and know when and how to use them properly.
The Six Sigma Yellow Belt curriculum includes the PDCA methodology. This acronym stands for Plan, Do, Check, Act.
Yellow Belts need to be proficient in data collection and its strategies as well as methodologies. Your role as a member of a project teamA project team level may consist of master black belts or gr... Learn More... is to gather and organize data, then deliver it to managers or other positions. This is an important part of the Yellow Belts' job.
The Technical Parts
Each Yellow Belt must have the ability to monitor multiple processes. They must be able to identify who to contact in the first instance and what steps they need to take to correct it.
The creation of basic graphs based on data should be familiar to Yellow Belts. You will use graphs like histograms and linear regressions as well as heat maps.
Six Sigma Yellow Belts should be driven to continually improve your business processes. Every process can be improved, regardless of whether it is manufacturing, production, logistics, or any other aspect. It is your responsibility as a Six Sigma professional to ensure that you uphold, maintain, and improve processes whenever necessary.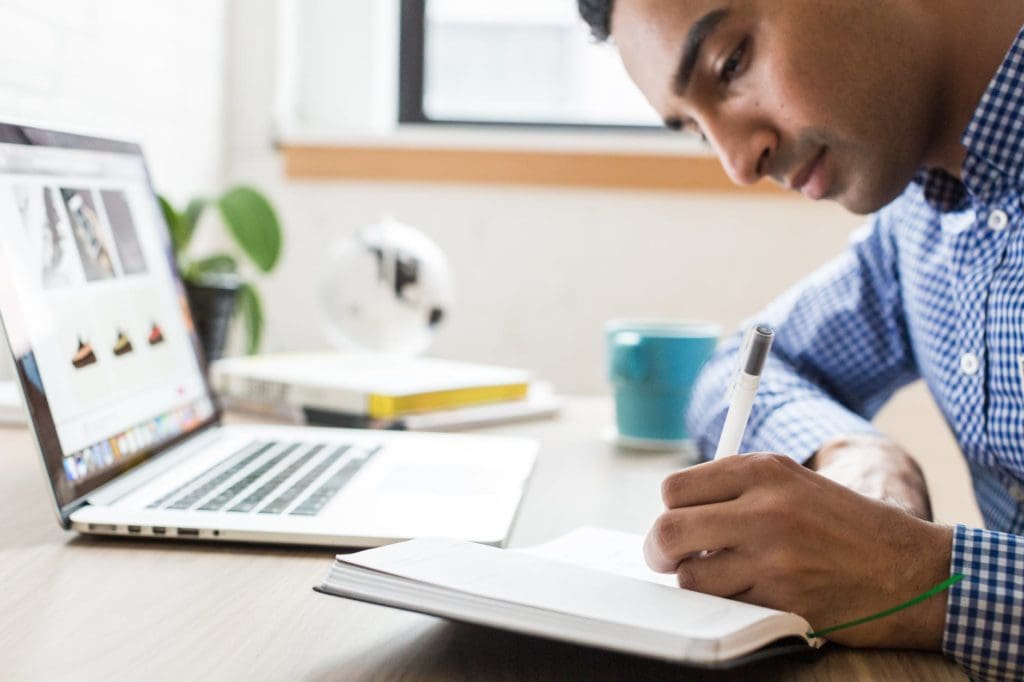 8 Skills every Six Sigma Yellow Belt must know:
Key Concepts Understanding Six Sigma and its application to your industry sector.
Project Scoring All Yellow Belts should know how to create a problem statement that is relevant to a team-based problem.
SIPOC SIPOCLean Six Sigma SIPOC stands for Suppliers' Inputs Process Ou... Learn More... stands for Suppliers, Inputs Processes Outputs, Customers and is also known as SIPOC SIPOC is a tool that displays a cross-functional set of activities in one simple diagram.
Value Stream Mapping and Process Mapping Process maps are great for visualizing a process. Yellow belts should know how to use some of these basic methods.
Basic Chats & Analy – You will need to know the following: Control ChartControl charts, also known as Shewhart charts (aft... Learn More..., Pareto, and Histograms.
Flow Charting Basic principles of flow including understanding the negative and positive effects of batching vs. single-piece flow.
Visual Management Visual Cards (Kanban), Signal Alerts, AndonAndon Board Andon board is a system that informs employees ... Learn More..., and Display Boards are some of the most important techniques to make work visible.
Root Cause Analysis This allows you to determine the root cause and then take the necessary steps to remove it so that it doesn't recur or go to another stage. Here are some common RCA tools.
Ishikawa Diagram
5 Reasons
Current Reality Tree (CRT).
8 Disciplines8D Meaning (or Eight disciplines problem solving) is a metho... Learn More... (8D8D Meaning (or Eight disciplines problem solving) is a metho... Learn More...).
What You'll Learn As a Yellow Belt
It is important to know what the Yellow Belts will be learning after they have completed their training. While some will be awarded certificates, others will receive certification. The important thing is the skills they learn.
Although there are many programs that take different approaches to Yellow Belt training, these are the main components.
Understanding Six Sigma terminology
Data collection and measurement basics
Six Sigma Methodology: How to Improve Processes and Reach Business Goals
How to improve your day-to-day tasks (for example, reducing wasted time or reducing cycle timeThe cycle time is the time it takes to produce an item or pr... Learn More...)
How to get Six Sigma employees to buy into the methodology
Yellow Belts are usually involved in projects but not in leadership roles. For some, however, a Yellow Belt can be a springboard to leadership positions by earning a Green BeltThe Six Sigma Green Belt is a certificate that professionals... Learn More... or Black Belt. The cost of a Six Sigma Yellow Belt certification is well worth the investment.
Related articles