Table of Contents:
Benefits of Six Sigma Yellow Belt Training
Lean Six sigmaSix Sigma Definition: Six Sigma is a set of techniques and t... Learn More... yellow belt certification training is beneficial in many industries. Being six sigmaSix Sigma Definition: Six Sigma is a set of techniques and t... Learn More... yellow belt certified allows you to analyze data and improve operations and performance. Plus, each levelStatistics level A statistics level is the value of input in... Learn More... of LeanLEAN Definition LEAN is a production method aimed primarily ... Learn More... Six Sigma yellow belt certified raises the averageA synonym for "mean": the sum of a set of values divided... Learn More... salary by 19%, and most Black BeltSix Sigma Black Belt A Certified Six Sigma Black Belt can be... Learn More... certification holders earn more than $50,000.
This method focuses primarily on solving problems by:
They exist, they can be proven
Identify the root cause
Make them remain fixed
What is a Six Sigma Yellow Belt certified person?
A Yellow Belt is an individual who is proficient in the Six Sigma methodology. They can either be responsible for small-scale Six Sigma projects, or they can work in a team on large-scale and complex Six Sigma projects. They will be supervised by either a Green BeltThe Six Sigma Green Belt is a certificate that professionals... Learn More... (or Black Belt) for the latter.
A Yellow Belt is able to understand the DMAICDMAIC is an abbreviation of the five improvement steps it co... Learn More... methodology. Yellow Belts will be taught how to apply Six Sigma tools and techniques for the benefit of the organization.
Take, for example:
The Control phase taught you tools such as control charts, individuals, and moving rangeIn statistics, the range of a set of data is the differenc... Learn More... charts. These ensure sustainable gains during process

There are many ways to organize your lean six sigma processe...

improvement.
Understanding the Measure phase will give you a solid understanding of its many tools. These tools include process maps, histograms, and capability analysisWhat is a Capability Chart? A capability chart, also known a... Learn More.... These tools can be used to boost the efficiency of an organization's process improvement efforts.
Lee Campe is the president and CEO at Performance Excellence Inc. Six Sigma-certified professionals can use statistical analysis to increase efficiency and reduce wasteMuda (無駄, on'yomi reading) is a&nbsp... Learn More.... This practice can be used to save money, improve product quality, and boost morale and productivity.
Although many people have heard about the six sigma yellow belt benefits, few individuals actually pursue this highly sought-after certification. You don't have to know Six Sigma, but you might need a quick reminder. Six Sigma management is a concept that streamlines corporate operations. This philosophy is marked by a variety of tools and approaches that can only be acquired through project-based training. Six Sigma is an analytical, data-driven approach to solving business problems and improving corporate activities.
Six Sigma, in other words, is significant.
Let's take a closer look at six-sigma yellow belt certification.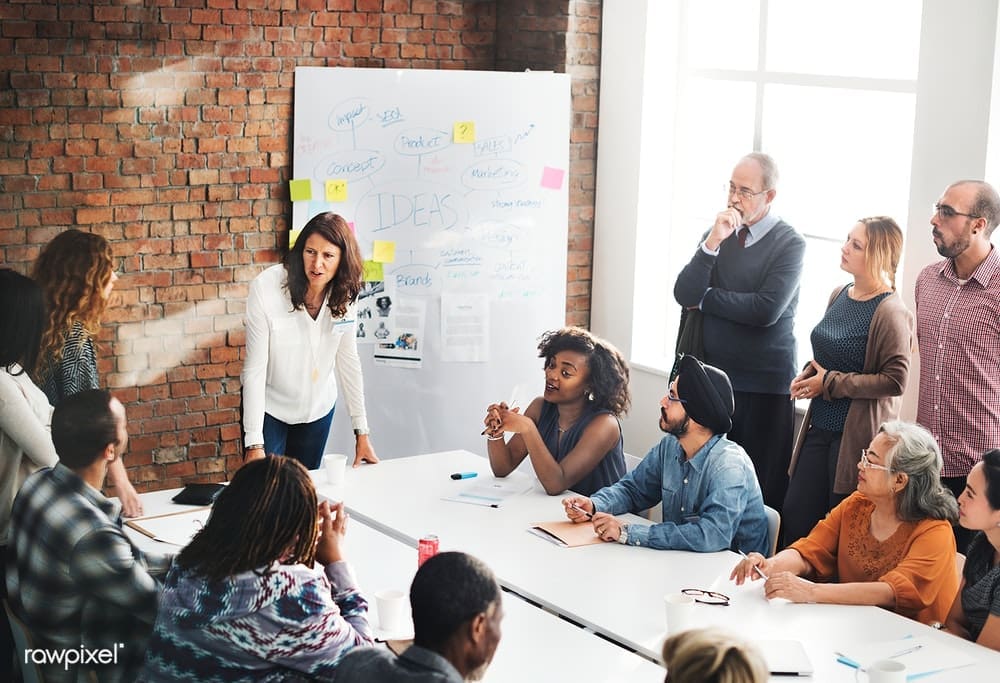 Six Sigma Yellow Belt – An Overview
Six Sigma was created by Motorola in the 1980s. It was adopted by General Electric in the 1990s. Six Sigma is based on the bell curve in statistics. One standard deviationCumulative probability of a normal distribution with expecte... Learn More... from the mean, or the highest part of the bell curve, is called "Sigma". Three standard deviations below or above the mean are considered minimal. Six Sigma of acceptable defectA defect is a physical, functional, or aesthetic attrib... Learn More... rates equals the sum of these standard deviations.
Six Sigma was originally created to identify process irregularities or variations, such as wear and tear on equipment, that can impact product quality. However, Six Sigma users found that it could also be used for improving areas like profitability.
Certification holders may be able to collect statistics about the number of system faults or outages in newscasts, for example. Six Sigma can also be used to reduce transportation costs, resolve customer complaints, and correct payroll errors.
The benefits of the Lean Six Sigma Yellow Belt can be used to improve business operations to better serve customers, fix a problem that affects employee morale, or save costs," says Mike Ungar, an executive coach at FocalPoint and former competence manager for the advancement profession at Michelin.
Benefits of being a Yellow Belt
Six Sigma yellow belt benefits are built on the foundation of the white belt. Yellow belts are able to apply Six Sigma at work and can create process maps that outline the steps and parameters.
They are also familiar with the basics of data acquisition. Although they are not qualified to lead a team, yellow belts can help green belt or black belt project leaders.
Six Sigma Yellow Belt Benefits to Organizations
Six Sigma can have a positive impact on every aspect of a company's operations. This could mean a better service for the staff or more work in the final product. These are just a few of the many benefits Six Sigma can bring to your business:
Customer satisfaction is the term that describes how satisfied a customer feels about a product. Six Sigma can help companies improve their processes and control quality. The end product is more satisfying and the client is happier.
Loyalty to the brand: Customers who are satisfied with a brand will return to it for more purchases. The product must be consistent in quality to keep a customer loyal.
Customers who are happy refer others to you. Satisfied customers return for more. This all adds up to a higher revenue stream.
Six Sigma can increase employee satisfaction by uniting staff around a common goal. Six Sigma gives leaders the opportunity to communicate and justify their messages. A sense of community can be fostered by better results. This leads to better results.
Collaborations that work better: Companies that are successful can share their success with other companies. This can lead to long-term partnerships and the adoption of Six Sigma methods.
Six Sigma Yellow Belt Benefits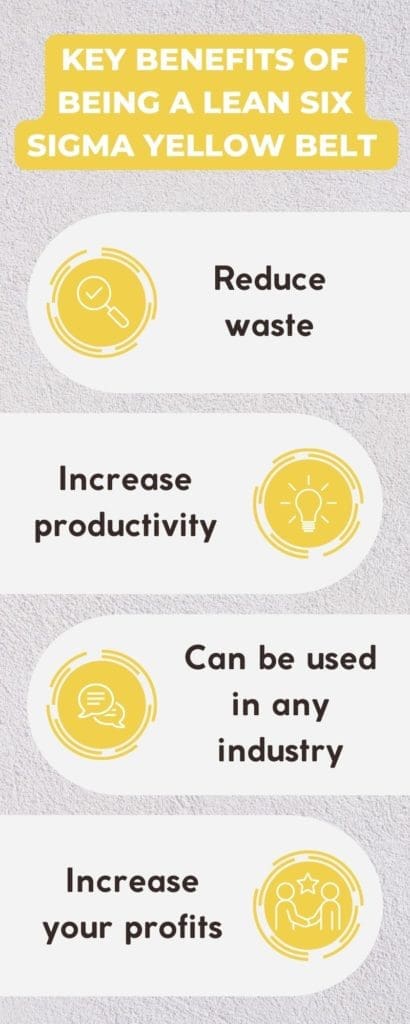 Six Sigma Certification offers many benefits. Take a look at the benefits of Six Sigma Certification.
Reduce waste.
Six Sigma is a philosophy that will help you and your company optimize processes to reduce total waste. This exclusive method will help you identify and eliminate waste within your company, saving you money and time.
Increase your productivity.
Six Sigma is not only a tool for reducing waste but also for improving operations. You'll learn how to optimize the efficiency of your company's processes through formal training.
We will keep errors to a minimum.
Six Sigma addresses both quality and procedure. Six Sigma is a method of ensuring that manufacturing work is done correctly the first time. This will allow you to save time and money.
Your legal risk to your company will be reduced.
Although it may sound too good to be true this strategy can also help you save money on legal fees. This methodology may help you to comply with international standards because Six Sigma is committed to quality.
It can be used in any industry.
Six Sigma can be applied in any industry. This is one of its most attractive aspects. It doesn't really matter what industry you are in: healthcare, manufacturing, retail, or higher education. Any company can cut costs and increase income by using the techniques and ideas you have learned in your training.
Increase your profits.
They say money can't buy happiness but it can purchase a great vacation. Each level of Lean Six Sigma yellow belt certified raises the average salary by 19%, and most Black Belt certification holders earn more than Rs 100,000 in their salary as opposed to lean six sigma yellow belts.
Six Sigma training sounds like a win. Although Six Sigma deployments have already reduced costs and made training more affordable, we still offer some assistance if you are still unsure. You can get the second seat free of charge if you buy two tickets to a Six Sigma course.
Conclusion
The Best Six Sigma Yellow Belt certified process is a powerful and strategic way to measure results consistently. This can be used to set a new baselineA baseline measurement method, also known as "the before mea... Learn More... for improved performance and bring you closer to operational excellence. Companies that successfully adopt this mindset across their entire company will be able to transform their manufacturing operations into a formidable, unstoppable force.
Related articles