FMEA What is it? This article is the third in a four-part series to show you "How to Complete a Six SigmaSix Sigma Definition: Six Sigma is a set of techniques and t... Learn More... Root Cause Analysis". The series covers four tools:
In this article, we will be discussing FMEA or the Failure Modes and Effects Analysis.
Introduction to Failure Mode (FMEA)
Many high-profile recalls of products are the result of poorly designed products or processes. This product recalls are discussed in public forums. Manufacturers, suppliers, and service providers are shown as being incapable of providing safe products. FMEA (Failure ModeA failure mode is the manner in which a process could potent... Learn More... and Effects Analysis) is a method that allows organizations to identify all possible failures during the design phase.
FMEA was developed in the 1950s and is one of the oldest structured reliability improvement techniques. It is still an effective way to lower the chance of failure.
What is Failure Mode Analysis (FMEA)?
Failure ModeThe mode is the value that appears most often in a set of ... Learn More... and Effects Analysis (FMEA) is a structured approach that identifies potential failures in the design of a product, processThere are many ways to organize your lean six sigma processe..., or product.
Failure modes refer to the possible failures of a process. These failures can cause wasteMuda (無駄, on'yomi reading) is a&nbsp... Learn More..., defectsMuda (無駄, on'yomi reading) is a&nbsp... Learn More..., or other negative outcomes for customers. Failure Mode and Effects Analysis is used to identify, prioritize, and limit these failure modes.
FMEA does not replace good engineering. FMEA enhances engineering rather than replacing it. It uses the expertise and knowledge of a Cross-Functional Team to review the progress of a product/process and assess its risk of failing.
Two main types of FMEA
Process FMEA
Process FMEA (PFMEA), identifies product quality and reliability issues, customer dissatisfaction, safety, or environmental hazards.
Machines utilized
Acceptance is affected by measurement systems
Process performance is affected by the environment
Human Factors
Processing methods
Materials used
Design FMEA
Design FMEA (DFMEA), which examines the potential for product malfunctions, reduced product lives, and safety and regulatory concerns derived:
Tolerances
Interfaces with other components or systems
Engineering Noise: Environments, user profiles, degradation, and systems interactions
Material Properties
Geometry
Why perform Failure Mode and Effects Analysis?
The cost of a failure will be lower if it is detected early. The impact of a failure discovered later in product development and launch is more severe.
FMEA is one tool that can be used to detect failure early in product and process design. FMEA is a tool that allows you to identify a product development (PD) failure early.
Improved Design for Manufacturing and Assembly (DFM/A)
Solutions at a lower cost
Standard Work, Legacy, Tribal Knowledge, and Tribal Knowledge
There are many options for reducing the risk
Higher capacityCapacity refers to the maximum amount of work, output, or a ... Learn More... for Validation and Verification of Changes
Design of the product and manufacturing process requires collaboration
This methodology can be used to identify and correct process failures early so you can avoid the negative consequences of mediocre performance.
When to perform Failure Mode and Effects Analysis
It is an innovative idea to conduct a Failure Mode Analysis and Effects Analysis at least once in your life.
If you set a goal to improve the quality of a particular process,
You need to learn from and fix the mistakes in a process
Designing a new product, service, or process
If you plan to perform an existing process in another way
It is also a clever idea to conduct FMEA periodically throughout the life of a process. For optimal results, quality and reliability must always be checked and improved.
FMEA Relationship to Problem Solving
FMEA's Failure Modes are the same as the Problem Statement and Problem Description in Problem solving. FMEA causes are the same as potential root causes in Problem Solving. FMEA failures are problem symptoms in Problem Solving. This relationship is illustrated by:
FMEA's design and process controls are used to verify the root cause of an issue and Permanent Corrective ActionCorrective action (also known as a Corrective Action Plan (C... Learn More... (PCA).
FMEA and Problem Solving can reconcile every failure and cause by cross-documenting failure modes, problem statements, and plausible causes.
Both the problem statements and descriptions can be linked between the two documents. You can solve problems faster by using easy-to-find, pre-brainstormed information in FMEA.
For future planning of new products and process quality, data from problem-solving can be added to an FMEA. FMEAs can now be able to identify actual failures and their causes. This makes them more efficient and complete.
To jump-start Fishbone and Ishikawa diagrams, it is possible to identify potential causes of FMEA. It is not an innovative idea to brainstorm information that is already known.
The Steps to Complete a FMEA (Failure Modes and Effects Analysis)
Review and label the Process Steps (using your process map) and the intended function or functions of those steps.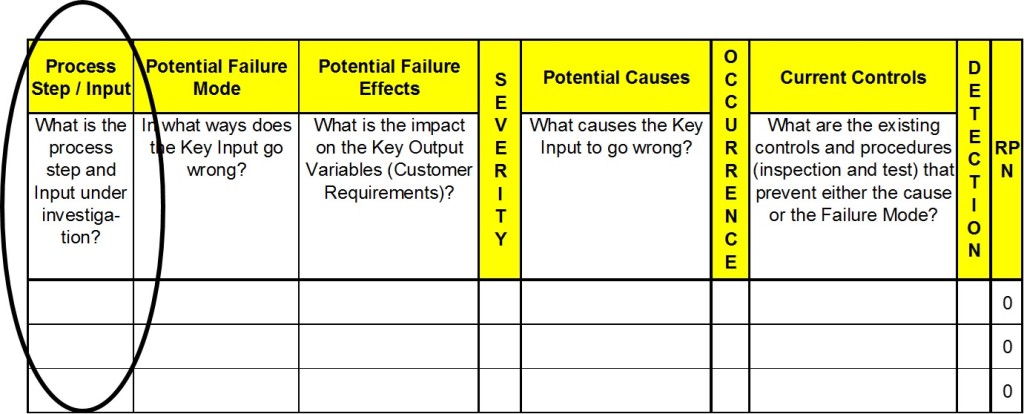 Consider the Potential Failure Modes
Consider the Potential Failure Modes for each component and its corresponding function.
A potential failure mode represents any way the component or process step could fail to perform its intended function or functions.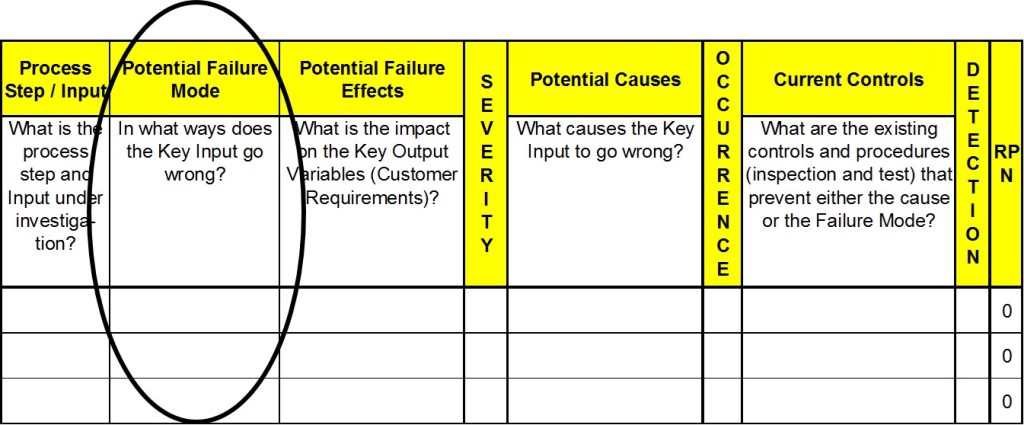 Determine the Potential Failure Effects
Determine the Potential Failure Effects associated with each failure mode. The effectIt's the change in the average value of the output caused by... Learn More... is related directly to the ability of that specific component to perform its intended function.
The effectIt's the change in the average value of the output caused by... Learn More... should be stated in terms meaningful to product or system performance.
If the effects are defined in general terms, it will be difficult to identify (and reduce) true potential risks.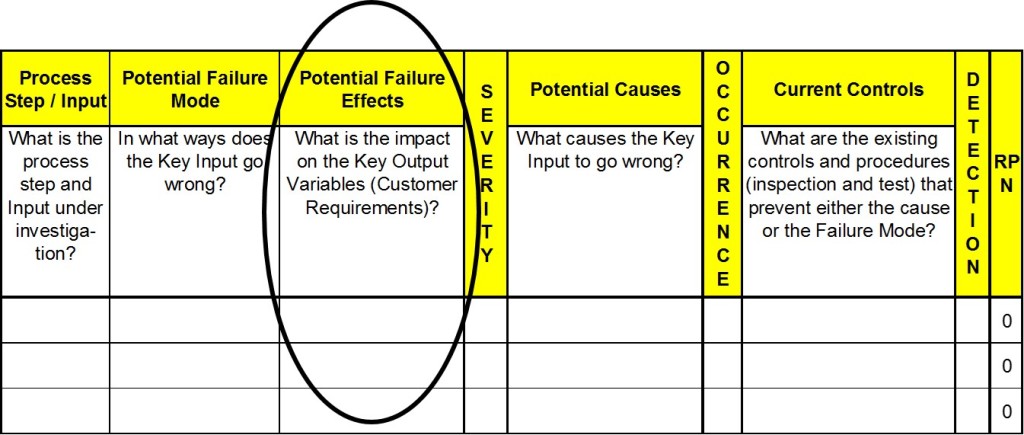 Determine Potential Root Causes
For each failure mode, determine all the Potential Root Causes. Use tools classified as root cause analysis tools, as well as the best knowledge and experience of the team.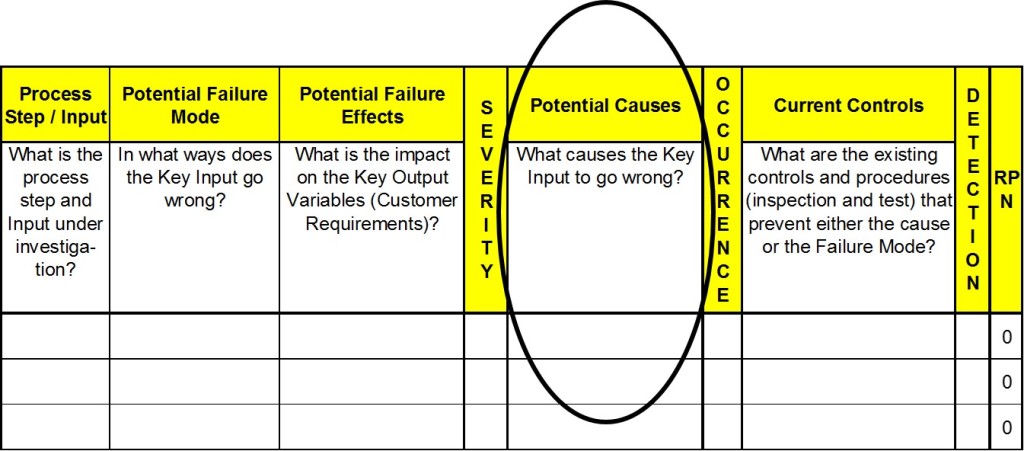 Identify Current Process Controls
For each cause, identify Current Process Controls. These are tests, procedures, or mechanisms that you now have in place to keep failures from reaching the customer.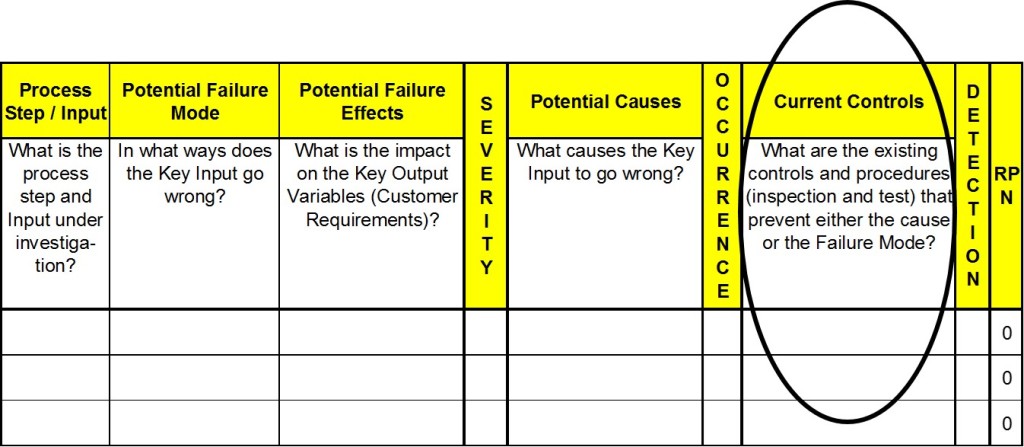 Assign a Severity ranking
Assign a Severity ranking to each effect that has been identified.
The severity ranking is an estimate of how serious an effect would be should it occur.
To determine the severity, consider the impact the effect would have on the customer, on downstream operations, or on the employees operating the process.
The severity ranking is based on a relative scale ranging from 1 to 10.
A "10" means the effect has a dangerously high severity leading to a hazard without warning.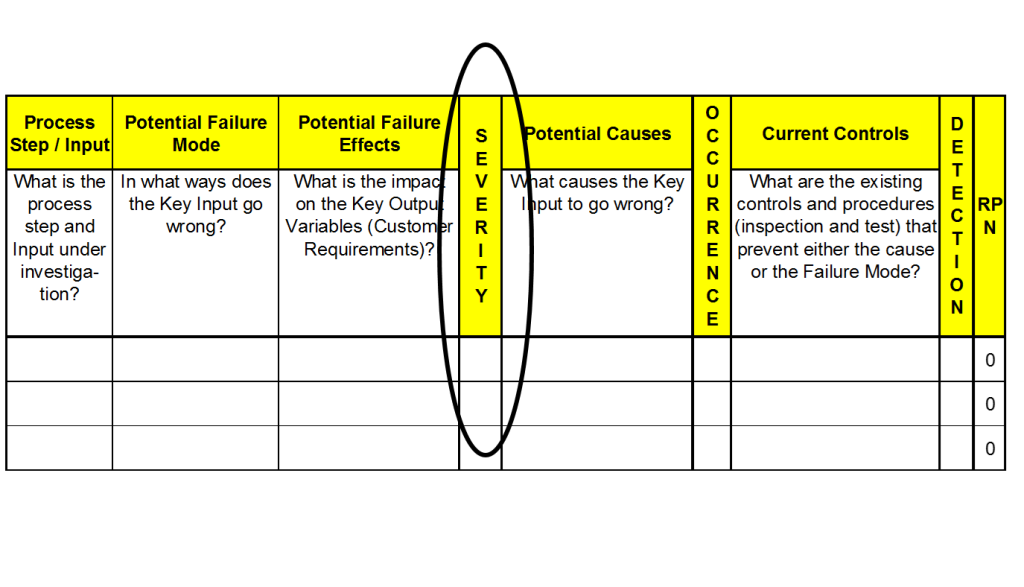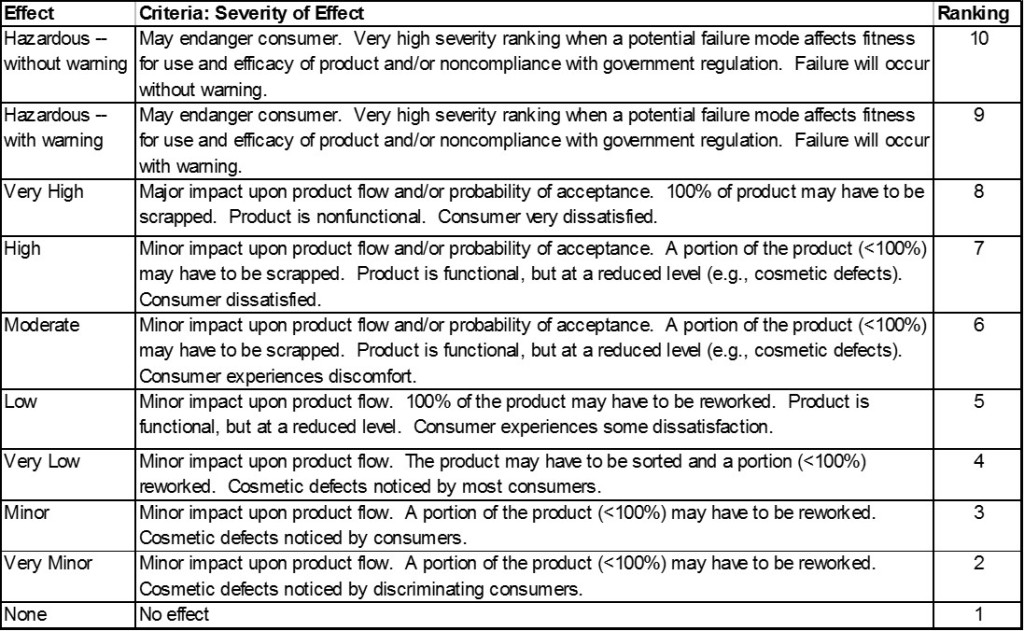 Assign the Occurrence Ranking
The Occurrence ranking is based on the likelihood, or frequency, that the cause (or mechanism of failure) will occur.
Once the cause is known, capture data on the frequency of causes. Sources of data may be scrap and rework reports, customer complaints, and equipment maintenance records.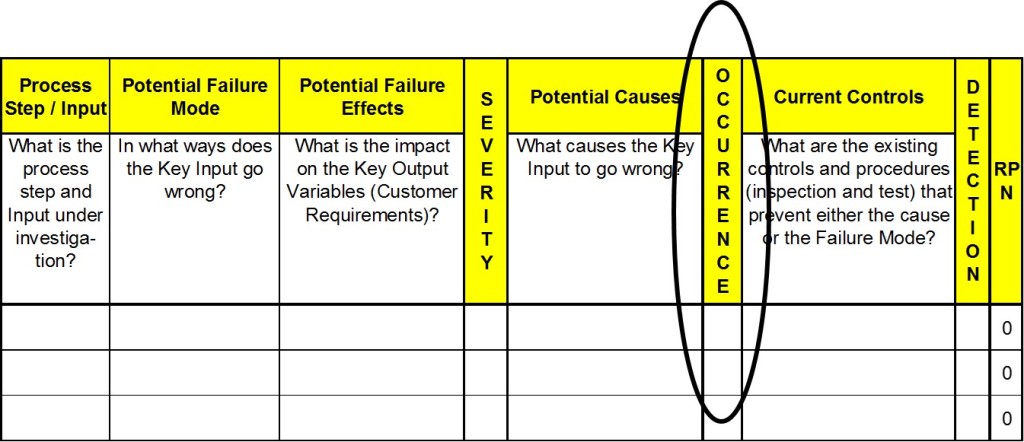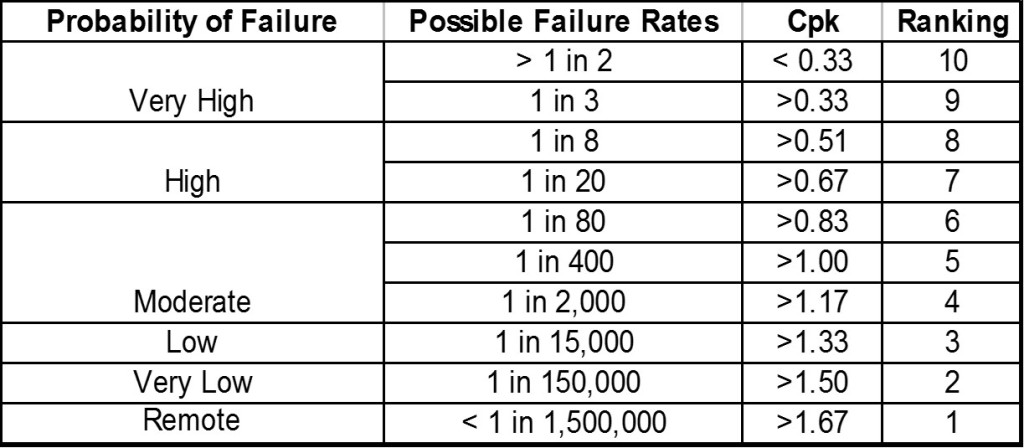 Assign the Detection Rankings
To assign detection rankings, identify the process or product related controls in place for each failure mode and then assign a detection ranking to each control. Detection rankings evaluate the current process controls in place.
A control can relate to the failure mode itself, the cause (or mechanism) of failure, or the effects of a failure mode.
To make evaluating controls even more complex, controls can either prevent a failure mode or cause from occurring or detect a failure mode, cause of failure, or effect of failure after it has occurred.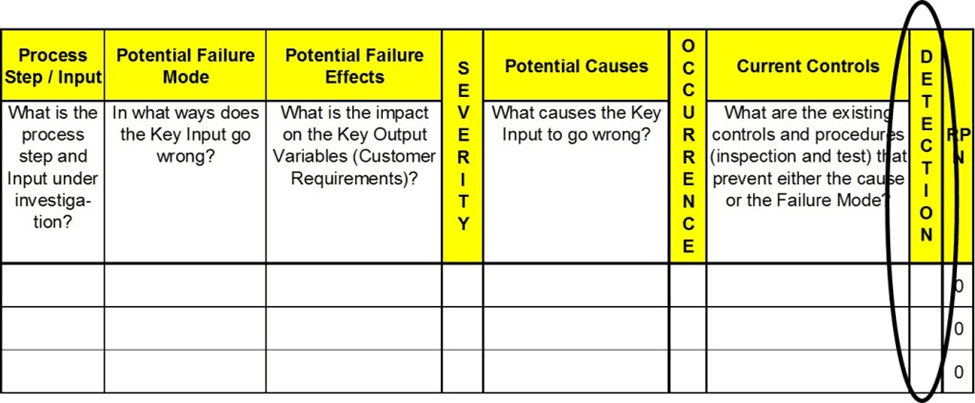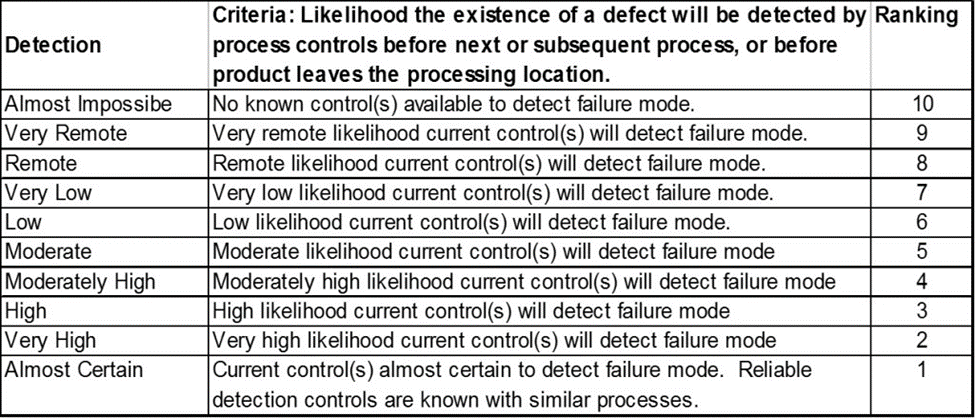 Calculate the Risk Priority Number (RPN)
The RPN is the Risk Priority NumberDefinition: Failure Modes and Effects Analysis (FMEA) is a s... Learn More.... The RPN gives us a relative risk ranking. The higher the RPN, the higher the potential risk.
The RPN is calculated by multiplying the three rankings together. Multiply the Severity ranking times the Occurrence ranking times the Detection ranking
Calculate the RPN for each failure mode and effect
Prioritize the Risks by Sorting the RPN from Highest Score to Lowest Score. This will help the team determine the most critical inputs and the causes for their failure.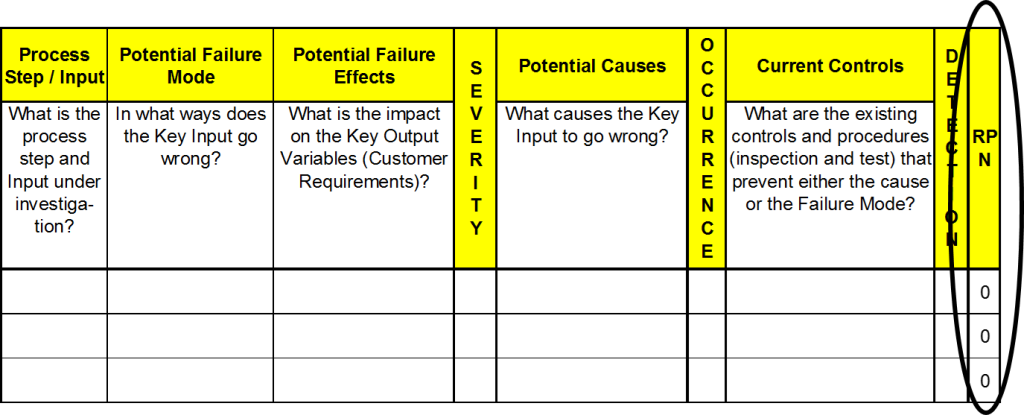 Develop Action Plan
Acting means reducing the RPN. The RPN can be reduced by lowering any of the three rankings (severity, occurrence, or detection) individually or in combination with one another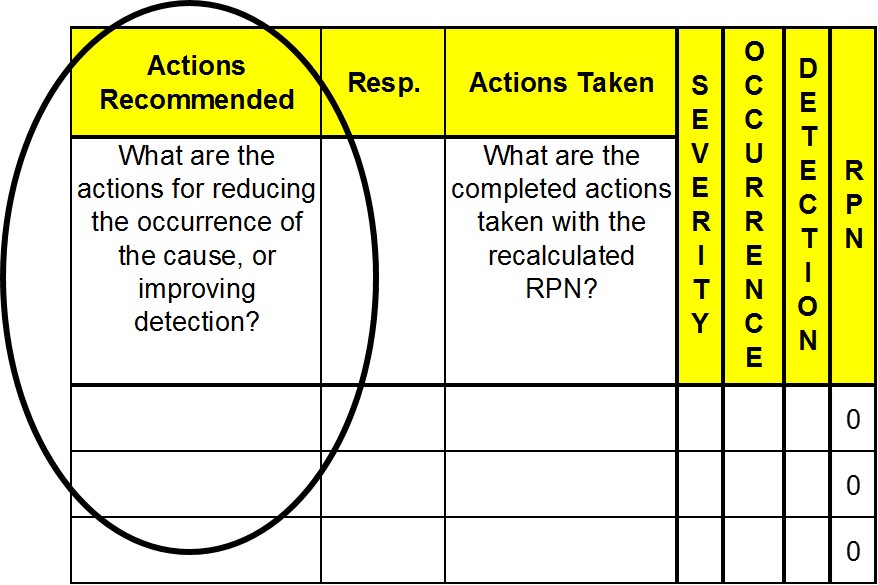 Who is Responsible
This is an especially crucial step in Acting!
Be sure to include person(s) responsible and the deadline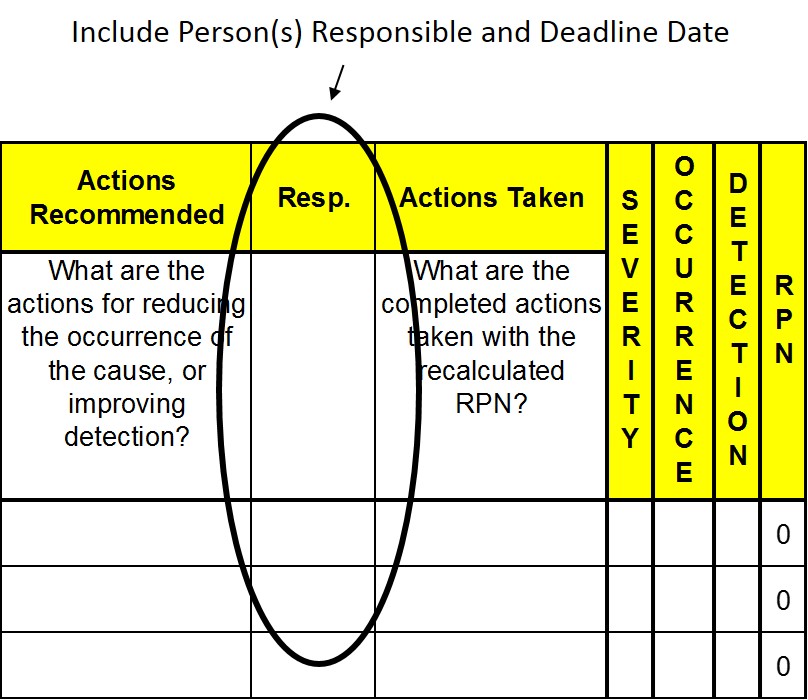 Act
The Action Plan outlines what steps are needed to implement the solution, who will do them, and when they will be completed.
Most Action Plans identified during a PFMEA will be of the simple "who, what, & when" category.
Responsibilities and target completion dates for specific actions to be taken are identified.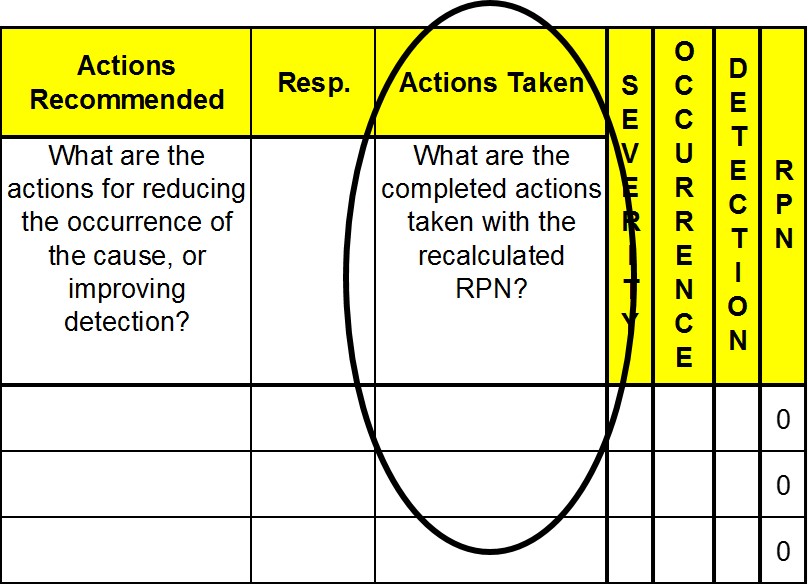 Recalculate the Resulting RPN
This step in a PFMEA confirms the action plan had the desired results by calculating the resulting RPN.
To recalculate the RPN, reassess the severity, occurrence, and detection rankings for the failure modes after the action plan has been completed.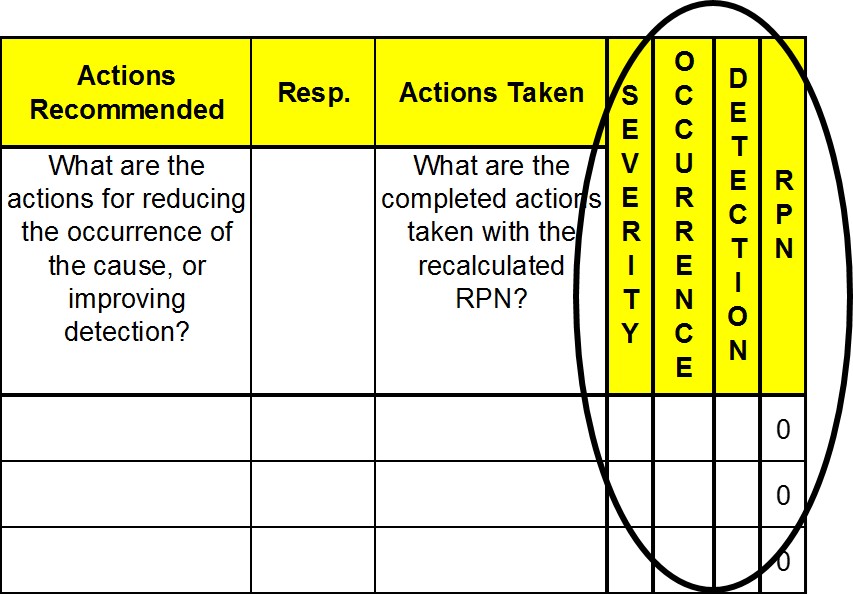 Related SSDSI Articles