What Does a Supply Chain Manager Do?
Ever wondered what does a supply chain manager do or how to become one? It is a complicated supply chain system, which is partly run by supply-chain managers. The prospect of transforming these logistical challenges into career opportunities might excite you. Supply chain managers can help businesses to overcome logistical challenges through increased efficiency, and by reducing production, manufacturing, and distributionUsed for determining the confidence interval for means or fo... Learn More... costs.
This guide will give you an insight into the high-growth career of a supply chain manager and teach you how to get there.
What Is a Supply Chain Manager?
Supply chain management may be the career for you if you want a demanding, but rewarding, fast-paced, and exciting career. Supply chain managers play a vital role in the success of any business. They are needed by all industries. They coordinate and analyze an organization's entire supply chain. It sounds simple, doesn't it? Supply chain managers are required to be leaders and detail-oriented because they oversee every step of the production processThere are many ways to organize your lean six sigma processe.... They oversee all steps involved in purchasing raw materials and delivering them to the customer. The Bureau of Labor Statistics reported that the averageA synonym for "mean": the sum of a set of values divided... Learn More... salary of a supply-chain manager in 2020 was $76,270.
You might assume that supply chain management is only about the product. Supply chain managers are not just concerned with delivering the highest quality product as efficiently as possible. They also manage people and clients. A supply chain cannot exist without clients who need the product, and teams that carry out the production.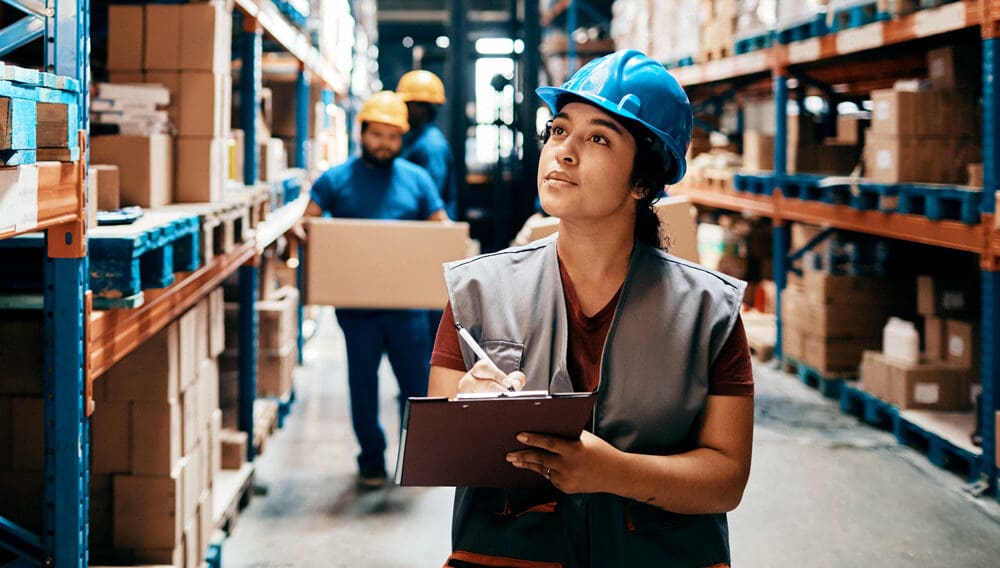 Responsibilities of a Supply Chain Manager
The supply chain manager organizes, coordinates, and manages the logistics of the production and distribution processes for a company. BLS states that supply chain managers are responsible for overseeing the lifecycle of a product. Their main responsibilities are:
Establish business relationships with clients and suppliers. To meet the needs of clients, supply chain managers need to be good networkers.
Direct allocation of products, materials, and supplies. To be a successful leader, supply chain managers need to manage teams, maintain a budget, and create products that meet the needs of both current and future customers.
Create high-quality products. The supply chain manager must develop and deliver products of the highest quality as efficiently as they can. It is their responsibility to constantly review and improve the logistical functions. They are responsible for proposing strategies to reduce the time needed to deliver goods.
Qualified Supply Chain Managers
How do you become a supply-chain manager now that you know what they do? Most positions in supply chain management require a bachelor's. Some industries require certificates or concentrations to advance in their career. Excelsior College offers a Bachelor's Degree in Business that focuses on logistics management. This program offers coursework in database management and operations, as well as project management, quality controlWhat is Quality Control (QC), and why does it matter? A busi... Learn More..., and inventoryMuda (無駄, on'yomi reading) is a&nbsp... Learn More... management. A candidate with a strong background in supply chain management would be able to solve problems and communicate effectively, as well as have a good understanding of these topics.
Salary and Job Outlook
You'll be in a higher position than a supply-chain analyst, and you will be expected to lead a team, implement cost-cutting measures, and manage a budget. According to the US Bureau of Labor Statistics, you can expect to earn an annual medianIn statistics and probability theory, the median is the... Learn More... salary of $77,000.
The projected growth in jobs between 2021-2031 is 28 percent. This is faster than the average of 5.3 percent. There will be plenty of supply chain management jobs in the coming years, as e-commerce retail grows along with complex supply chain challenges.
How to Become a Supply Chain Manager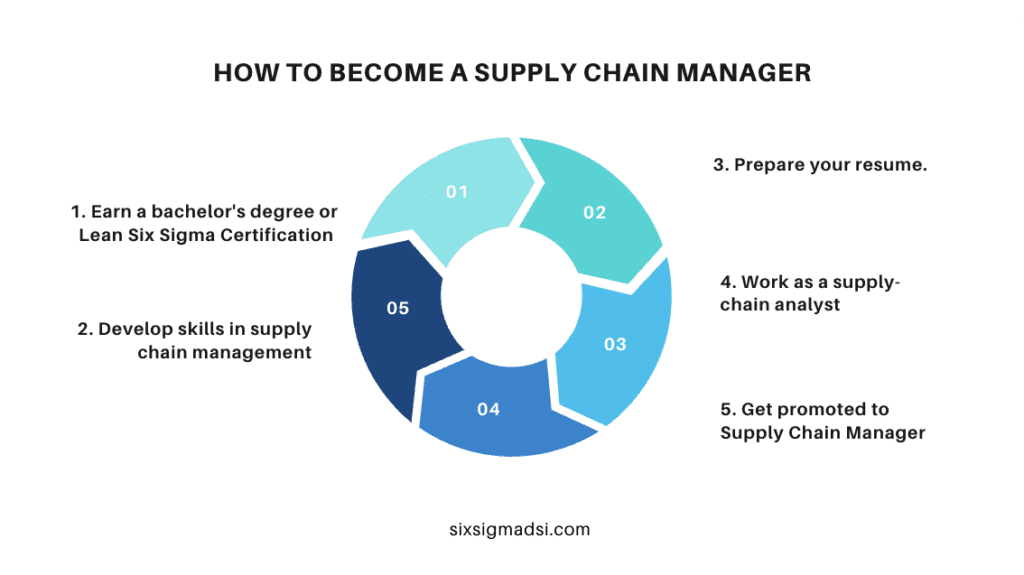 In the coming years, supply chain managers will be able to take advantage of many new opportunities. How can you get started?
1. Consider earning a bachelor's degree or Lean Six Sigma Certification.
Supply chain managers are likely to hold a Bachelor's Degree or Lean Six SigmaSix Sigma Definition: Six Sigma is a set of techniques and t... Learn More... Certification.
This means that a bachelor's or LSS Certification is usually required to be considered for these positions. An MBA, or master's in a similar discipline can sometimes elevate your resume to be considered for competitive positions or promotions.
2. Develop skills in supply chain management.
As an intern or in an entry-level position, you'll need to gain experience with supply chain management. You can develop your skills in supply chain management and the transferable skills listed above.
You can brush up your knowledge of terms such as "just-in-time" manufacturing by taking a course on Supply Chain Principles, such as the one offered at Georgia Tech. This course will give you a good introduction to supply-chain management.
3. Prepare your resume.
Prepare your resume to apply for roles in supply chain management as you prepare to begin applying for jobs. When changing careers, you can use job descriptions of supply chain managers as a guide to fill your resume with the relevant skills and terminology.
Then, you can add Coursera credentials to your resume. You can also include action phrases and look for ways to improve your resume. The best way to ensure that your resume matches the keywords of the job you are applying for is to align it with those keywords. Even small changes to your resume each time can have a significant impact on hiring managers and recruiters.
4. Work as a supply-chain analyst.
After you have polished your resume, and submitted job applications, it is possible to land an entry-level role as a supply-chain analyst or corresponding role. Congratulations! Congratulations! You are well on your path to becoming a Supply Chain Manager. As a supply-chain analyst, you will gain an understanding of your industry and learn how to plan logistics and demand for your company.
What is our advice? Our advice? Supply chain management is a complex process. You should learn as much as possible from your colleagues, managers, and partners to become a supply-chain expert.
5. Promoted to Supply Chain Manager
It is possible to start as a Supply Chain Manager if you are switching from another role, but if you have some work experience already under your belt and want to move up to a management position in the supply chain, it's best to be promoted to a Supply Chain Analyst. You will be familiar with the processes and have all the skills necessary to succeed as a supervisor.
When you are in line for a promotion, it can be helpful to develop strong relationships with your director, manager, and co-workers. You could get promoted to supply chain manager if you do your best and are the most positive person.
Interested in becoming a Supply Chain Manager? A Lean Six Sigma Certification will get you there!
Leave a comment down below. We can help you.
Related articles