Is A Six Sigma Green Belt Worth It?
Six SigmaSix Sigma Definition: Six Sigma is a set of techniques and t... Learn More... green belts are the most valuable members of the Six Sigma team. They are known for their ability to solve all the problems that an organization or business faces during their day. As integral members of Six Sigma, they are given multiple tasks and must assume many roles. They have more responsibilities than any other Six Sigma team member. They must take on greater responsibilities for the Six Sigma team they are part of and for the benefit of the entire business or organization that employs them. Anyone who earns a six-sigma green beltThe Six Sigma Green Belt is a certificate that professionals... Learn More... online certification will need to expect demanding work and sacrifice, but great rewards. Learn more on 6 SigmaSix Sigma (6σ) is a set of techniques and tools for proces... Learn More... Green Belt certification cost later in the article.
It's often the case that the Six Sigma green beltThe Six Sigma Green Belt is a certificate that professionals... Learn More... team member's ability and performance can make or break a business processThere are many ways to organize your lean six sigma processe..., project, or entire project. It is hard to overstate the importance of Six Sigma Green belt team members. The Six Sigma green belt team member is the most important part of Six Sigma. The Six Sigma green belt team member is responsible for ensuring that all business processes run smoothly and giving approval to any company project. Let's look at the benefits of Six Sigma green belt certification.
You must ask yourself, "Is it worth getting Six Sigma Green Belt Certified?"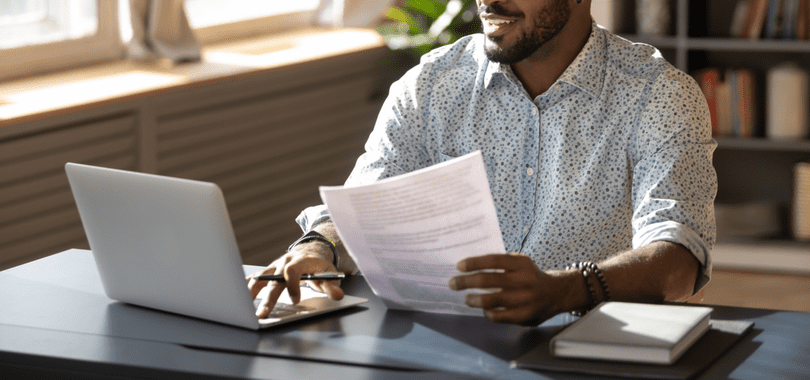 Here's what you need to know about Lean Six Sigma Green Belt Certification & Training:
1. According Dick Costolo (recent head of Twitter), the problem-solving skills that you acquire with a Lean Six SigmaSix Sigma Definition: Six Sigma is a set of techniques and t... Learn More... Green Belt Certificate are what innovative companies today value the most in potential employees.
2 The averageA synonym for "mean": the sum of a set of values divided... Learn More... national salary for a Certified Green Belt in the United States is $95,261 annually (2019). According to Indeed.com, the #1 Job Site in the World, there are more than fifty countries and twenty-six different languages that cover 94% of the global GDP.
3. Green Belt Certification The most sought-after certifications among all "Belt" levels within LeanLEAN Definition LEAN is a production method aimed primarily ... Learn More... Six Sigma, is the most highly sought-after.
4 Green Belt Training will teach you how to manage facts and data. Jack Welch was the former CEO at GE. He once stated, "If we're going manage by opinions…I'd prefer they were mine!"
Lean 6 SigmaSix Sigma Definition: Six Sigma is a set of techniques and t... Learn More... is a method that puts creativity before cash. Green Belt Training gives you the tools and techniques to help organizations increase profits and decrease costs.
6. Being involved in a Green Belt project gives you valuable exposure to the people and processes of the company. This increases your knowledge and makes it easier to make valuable connections.
7. Unsolved problems aren't so bad when there's a way out of them. Lean Six Sigma's DMAICDMAIC is an abbreviation of the five improvement steps it co... Learn More... methodology offers that path.
8 Six Sigma Green Belt Certification is for problem-solving skills – problems are something organizations will never run out!
9 Six Sigma tools are not enough to sustain change. It's all about people. Green Belt Certification teaches you how to successfully implement change by working with the right people and treating them with respect.
10 A poor process can beatTAKT Time Definition Takt time, or simply Takt, is a manufac... Learn More... a good person every single time. Green Belt Training focuses not on blaming people involved in the process but fixing it.
Why get Six Sigma green belt certified?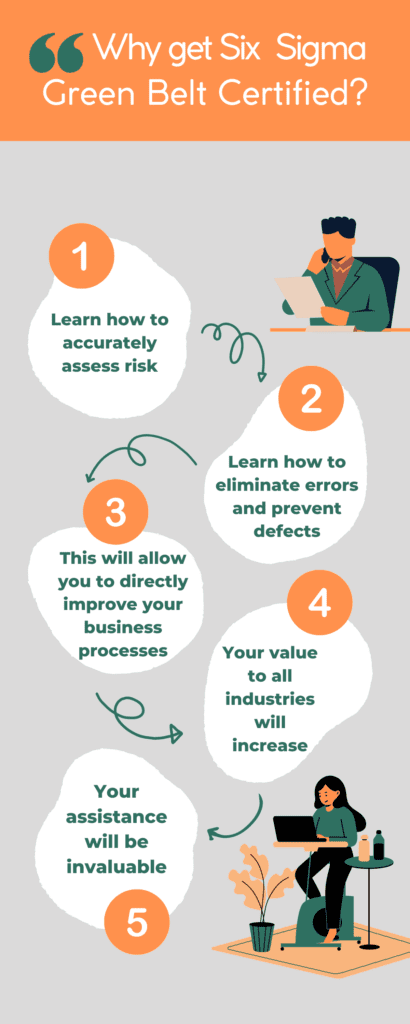 1. Learn how to accurately assess risk
Learners will gain valuable knowledge and skills online to help them enter the Six Sigma industry. First, you will need to be able to identify and assess risks. Six Sigma green belt certified team members can accurately assess business risks and assign a levelStatistics level A statistics level is the value of input in... Learn More... of danger to them. He will be able to assign the danger level and priority of any risks he finds and the Six Sigma team members will be able act on them according to their priority and danger level.
This comes with many benefits. The Six Sigma team receives a prepared to-do list based on the assessment of the Six Sigma green belt certified member. They can then move on to the next stage with the knowledge that all risks and troublemakers have been identified and addressed by the Six Sigma green belt members as well as the entire team. You can learn how to accurately assign priority and danger levels to risks through ix sigma green belt training.
2. Learn how to eliminate errors and prevent defects
Six Sigma green belt certified team members have extensive industry knowledge. He is particularly familiar with the business processes that make up the project he's working on. He is the expert on the subject and is therefore able to spot errors and defectsMuda (無駄, on'yomi reading) is a&nbsp... Learn More... in business processes. Online six-sigma green belt certification teaches him how to evaluate and analyze business processes to determine if they can withstand the test of time and manufacturing input.
He will not only be able to identify and fix any errors or defects in business processes, but he will also be able to provide solutions that will eliminate and eliminate them. He will not be passive and pass comments but will be able directly to improve the business processes.
3. This will allow you to directly improve your business processes
The online course for six sigma green belt certification will help the learner to develop a keen eye for minute details. This skill is essential in Six Sigma because small flaws in business processes can cause significant problems that could lead to the demise of a business. Quality assessment is the process of analyzing and evaluating a business's processes to find any small or large flaws. Six Sigma green belt certified team members can accurately assess the quality and make concrete and tangible recommendations for improving it. He is responsible for the quality improvement of business processes. This is what learners will learn in any six-sigma green belt training.
4. Your value to all industries will increase
Six Sigma is a method that is well-known for its effectiveness and suitability in completely overhauling or revamping an organization's business processes. It's especially useful for improving manufacturing processes in a company or business. It is advantageous to obtain a six-sigma green belt certification online. This is because the six-sigma methodology is widely used and certified professionals will have a clear path to success in all industries. Here's a list of industries where six-sigma is used.
Agriculture
Energy
Mining
Construction
Manufacturing
Consulting
Design
Services
Universities
Hospitality
Healthcare
Pharmaceutical
Hotels
Law Firms
Logistics
Transportation
Airports
Non-Profit Organizations
Government
Public Services
A six-sigma green belt certified person will be able start a promising career within any of these industries because his value will soar after completing the certification course. One can say that even though the six-sigma green belt certification is inexpensive, they will have a rewarding and rich career.
5. Your assistance will be invaluable to the company in ensuring compliance with all standards
The six-sigma method is very popular and widely used in many industries, as we can see from the above. Six Sigma's methods for driving quality improvement have gained worldwide acceptance. Many of them believe that any product or service that meets the six-sigma standards for excellence and quality should be accepted. Simply put, they accept what is good enough to six sigma.
Another responsibility of the six-sigma green belt team members is to advise different standards committees and governing bodies on the evaluation and assessment of a product or service to ensure compliance with six sigma standards. Any six-sigma greenbelt certification online will address standards compliance.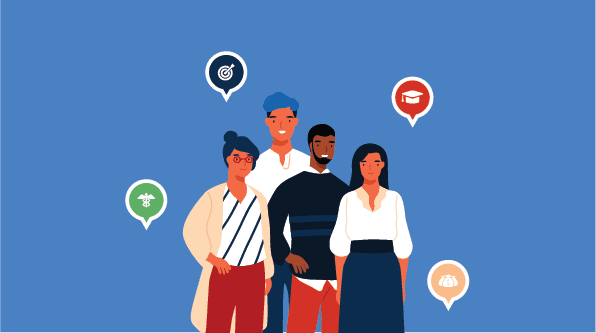 Lean Six Sigma: The Competitive Advantage
Lean Six Sigma is a combination platter of process improvement. It combines the best of Six Sigma and Lean to enable organizations to solve problems and continually improve their processes. Lean Six Sigma frameworks are a fantastic way to increase profits, decrease costs, improve efficiency, and reduce wasteMuda (無駄, on'yomi reading) is a&nbsp... Learn More.... More than half of Fortune 500 companies use these efficient processes.
Minimum Time Commitment Maximum Impact
Companies that adopt Lean 6 Sigma Green Belt certification frameworks can accelerate their time and cost savings. Why? Lean Six Sigma certification will produce more results than either Six Sigma or Lean alone. Lean helps to identify wasteful practices and boost efficiency. Six Sigma increases performance, reduces errors, and minimizes variance. Companies benefit from more tools and more approaches together, which results in more success over a shorter time.
This is also true for you. You must consider the time required to master the specialized skills of Lean Six Sigma. It takes 10 Saturdays for the Green Belt; it takes seven hours for the Yellow Belt. Compare that to a one-year or two-year MBA.
The Money Factor
Lean 6 Sigma Green Belt Certification is known for its worth in producing both hard and soft cost savings. Process improvement is a straightforward way to save money.
Soft savings, which are a bit more difficult to quantify but not less important, can be attributed to safety, employee satisfaction and customer loyalty. General Electric claims to have saved more than $2 billion by adopting Lean Six Sigma. In the past 20 years, Fortune 500 companies collectively have saved $430 billion.
Profitability does not just mean saving money, it also means increasing your revenue. Process improvement can help you deliver a better product or service to your customers in a more efficient manner. This equation almost guarantees increased sales. One study showed that Lean Six Sigma methods result in a 40 percent higher return on investment for enterprises than those who follow them. If you produce outstanding work and make fewer mistakes, money will follow.
It's the same for you. Employers who recognize the value of hiring Lean Six Sigma certified and skilled candidates are just like customers who pay for quality. Let's look at the numbers.
PayScale estimates that the average Lean Six Sigma Black BeltSix Sigma Black Belt A Certified Six Sigma Black Belt can be... Learn More... Salary is $135,000.
Zip Recruiter posted $91,225 as the national average for all belt grades.
Zippia projects that Lean Six Sigma Black Belts job growth will increase by 8 percent.
Related Articles