Six Sigma Belt Levels Explained
It can be difficult to understand the Six SigmaSix Sigma Definition: Six Sigma is a set of techniques and t... Learn More... Belt levels. Six Sigma methodology uses a colored belt system to obtain its certification. You must follow a hierarchical processThere are many ways to organize your lean six sigma processe... to receive Six Sigma Certification. Each Six Sigma Belt prepares for the next. You can start anywhere (Yellow or Green), but the Master Black BeltThe utmost level in the Six Sigma hierarchy is the Master Bl... Learn More... is different. Before you can be enrolled in the Master Black BeltSix Sigma Black Belt A Certified Six Sigma Black Belt can be... Learn More... Program, you must first have a Black Belt Certificate from a recognized organization. Find out everything you need to know about what the belt levels are in lean six sigmaSix Sigma Definition: Six Sigma is a set of techniques and t... Learn More....
Let's take a closer look to see which belt levelStatistics level A statistics level is the value of input in... Learn More... is best for you.
What are the belt levels in Lean Six Sigma?
Six Sigma Champion
A ChampionA Champion in a Six Sigma initiative is the executive sponso... Learn More... is the first level of Six Sigma certification. Although a Champion is not a belt per se, it plays a crucial role in Six Sigma projects and organizations. The primary function of the Champion is to ensure that all operational projects align with strategic business objectives.
Six Sigma White Belt Certification
Let's start by explaining the White Belt. This is the first step in the Six Sigma Certification process. Start at the local level and solve problems. To solve every problem, White Belts will be able to connect with professionals with a Green beltThe Six Sigma Green Belt is a certificate that professionals... Learn More... or Black belt. The White Belt's goal is to learn the basic concepts of Six Sigma and what are the belt levels in leanLEAN Definition LEAN is a production method aimed primarily ... Learn More... Six Sigma.
Six Sigma Yellow Belt Certification
The Yellow Belt for Six Sigma is the place to learn about the Six Sigma belt level, its principles, applications to work, and how to best use your time. Yellow Belt professionals are well-versed in all phases of Lean Six Sigma. We recommend that students enroll in a class to get the necessary guidance. Yellow Belt Lean Six Sigma allows you to start eliminating defectsMuda (無駄, on'yomi reading) is a&nbsp... Learn More... within enterprise systems.
The most common question is "What's the difference between a Six Sigma Green BeltThe Six Sigma Green Belt is a certificate that professionals... Learn More... or Six Sigma Black BeltSix Sigma Black Belt A Certified Six Sigma Black Belt can be... Learn More...?"
Six Sigma Green Belt Certificate
A Six Sigma Green Belt assists a Six Sigma Black Belt in analyzing and solving quality issues and participating in quality-improvement initiatives. Green Belts can also help to review data and provide suggestions for lower-tiered belts. Sometimes, Green Belts have the experience and knowledge to manage their own projects. It all depends on how experienced they are in the field. The workhorses of any business are the Green Belts.
Green Belts will be able use learned tools like define, measure, and analyze, improve, control, and control to solve everyday problems in the workplace. They can also assist Black Belts in Six Sigma Teams and team projects to make a tangible improvement to the enterprise.
When looking for a job, candidates who have an in-depth knowledge of the procedures and methods at the Green Belt level are a significant advantage. Hiring managers are looking for candidates who have the same knowledge and experience as Green Belts.
Six Sigma Green Belt holders are typically employed as a compliance structural engineer, lead manufacturer engineer, operating system specialist, business process analyst and senior IT project manager.
Six Sigma Black Belt Certification
A Six Sigma Black Belt can understand Six Sigma principles and philosophies, as well as the supporting systems and tools. This person is a leader and can understand all aspects of the DMAICDMAIC is an abbreviation of the five improvement steps it co... Learn More... model [in compliance with] Six Sigma principles.
Black Belts are often referred to as agents of organizational change. They can understand team dynamics and assign roles and responsibilities to team members. These team members are often Green Belts. A Black Belt's goal is to increase overall quality and profitability.
Six Sigma Black Belts are typically employed in the following positions: Project Manager, Vice- President of Operations, Manager of Manufacturing.
Six Sigma Master Black Belt
Master Black Belts are the leaders in the food chain for Lean Six Sigma/Black Belt Six Sigma subject matter specialists [in the field].
Individuals must have at least five years of experience as a Black Belt Six Sigma Master Black Belt (MBB), or at least 10 BBSS projects during their professional career. You must submit these documents to be approved for a portfolio review. The ASQ and IASSC review your Six Sigma experience, including coaching and teaching, mentoring, and your responsibilities as a BBSS professional. They also evaluate your innovation and technical knowledge.
Six Sigma Black Belts are typically employed in senior project management, senior process engineer, lean transformation expert, and similar roles.
It's possible to earn a certification once you have mastered the Six Sigma belt level. However, it can be challenging and rewarding. Six Sigma certification is recognized by businesses around the globe as proof of an individual's ability to reduce, eliminate or eliminate unnecessary costs and streamline business processes. This helps propel future growth. Six Sigma certified professionals are sought by hiring managers to help them achieve their business goals and increase their profitability. Six Sigma Certificate will give you the skills you need to excel in many roles. This certification will give you direct insight into how to cut costs, increase revenue, streamline business processes, and improve employee engagement.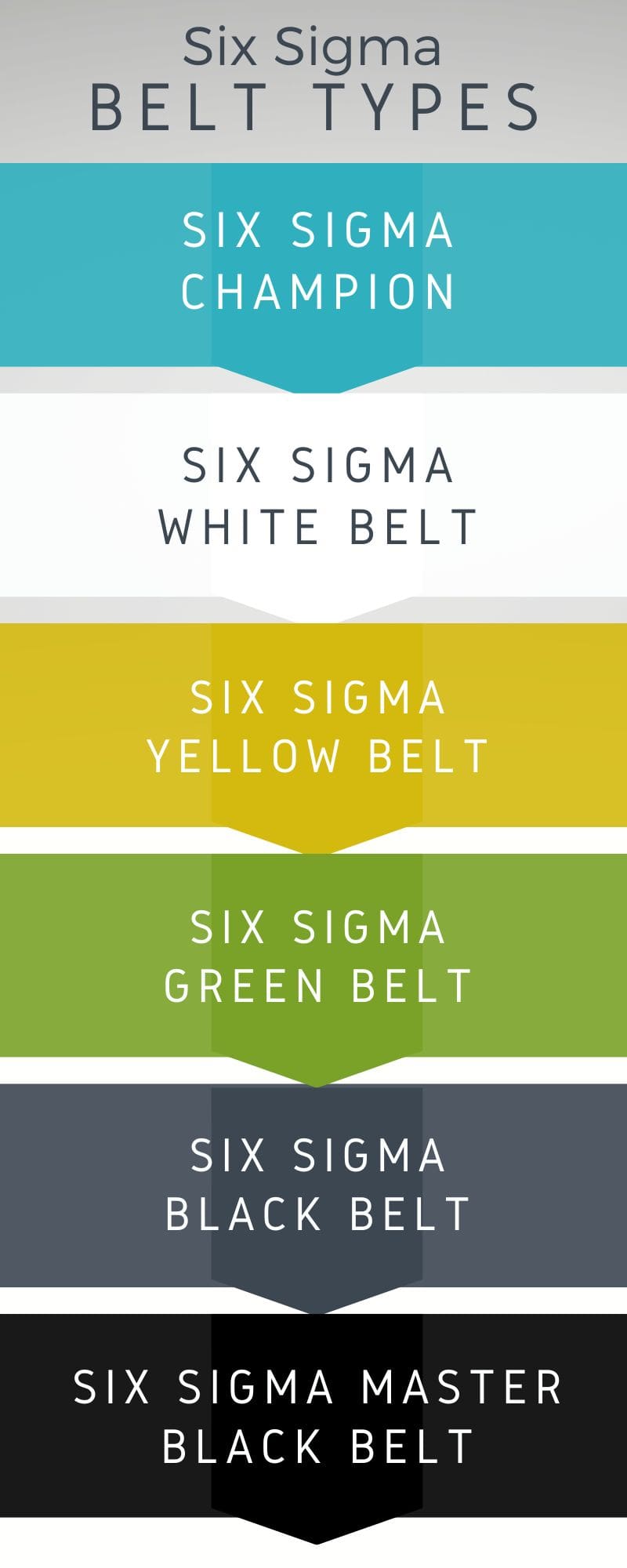 Where to start depends on three factors
Education Background
Recency
Experience
1. EDUCATIONAL BACKGROUND
The Yellow Belt is a great place to start for anyone majoring in humanities, including English, Art, Music, and Journalism. It focuses primarily on the Lean belt's conceptual issues. It is about where, when, why, and how. These concepts can be operationalized using statistical data, which is left up to the Green Belt and beyond. This Yellow Belt course has been a great way to get started on the topic.
The Green Belt is for Liberal Arts Graduates with a background in Social Sciences, Economics, and Natural Sciences. Many have been exposed to math and statistics. This will make understanding the fundamental statistical concepts covered by the Green Belt easier.
You should have a solid understanding of Statistics and Maths to be able to move directly to the Green Belt.
Engineers with strong quantitative backgrounds should not have any trouble with the Green Belt. They may also consider the Black Belt, particularly those who excel in statistics.
You should go straight to the Green if you have a business education. Marketing and Management majors might start with Yellow. It all depends on your level of comfort with statistics.
The skills that you've learned in school are still relevant if you have been away from it for less than five years. This means that you should still be able to comprehend abstract and quantitative concepts. This means that if you have been out of school for less than five years, it is not an issue. Where you start your education depends more on your educational background than it does on how long you have been away.
However, if you have been in the program for five years or more, you may want to drop back one category. Those with the right background might be able to take the Yellow Belt or Green Belt.
3. PROFESSIONAL EXPERIENCE
The Black Belt is recommended if you are familiar with Lean and Quality management, have a good understanding of statistics and quantitative reasoning, have not been away from formal learning, or have a lot of experience.
However, many people who change careers have been out of school for a while and aren't familiar with the system.
If you are comfortable with statistics, you should begin with the Yellow Belt and possibly the Green Belt. You may find the Black Belt too difficult and frustrating. It is better to begin at a comfortable level, then work your way up, than to get frustrated and give up.

Conclusion
No matter which Six Sigma Belt level you choose, Yellow, Green, or Black, we designed our certification programs so that you can follow each step of the learning process. Each step on the Lean Six Sigma Ladder thoroughly reviews all previous material. You can start at any level you find most appropriate for your education, experience, and time away from formal training. Start at a comfortable level. This will help you avoid frustrations caused by pushing yourself too hard, just find out what are the best belt levels in lean Six Sigma.
Related articles