10 Facts About a Six Sigma Green Belt Certification
Quality is a key attribute in today's competitive market. Organizations can achieve the desired competitive advantage by creating a system that promotes quality and eliminates defectsMuda (無駄, on'yomi reading) is a&nbsp... Learn More.... Six Sigma Green BeltThe Six Sigma Green Belt is a certificate that professionals... Learn More... (SSGB is its acronym) is a methodology that captures organizations in complete systems. A Green BeltThe Six Sigma Green Belt is a certificate that professionals... Learn More... certification has the potential to bring about sustained success. Keep on reading to find out how to get your 6 SigmaSix Sigma (6σ) is a set of techniques and tools for proces... Learn More... Green Belt certification.
Lean Six SigmaSix Sigma Definition: Six Sigma is a set of techniques and t... Learn More... Courses For quality management professionals, you can train them 6 Sigma Green Belt Certification Exam. What does Six SigmaSix Sigma Definition: Six Sigma is a set of techniques and t... Learn More... mean and what is its definition of quality? How can 6 Sigma Green Belt help me to move up the career ladder? What are the traits of a Six Sigma Green Belt holder who is successful?
What is Six Sigma?
Six Sigma is a method of implementing quality principles and techniques in a focused, efficient and rigorous manner. The Six Sigma methodology is designed to achieve almost error-free business performance. Six Sigma is the application of scientific methods to the design and operation management systems and business processes that enable employees to create value for customers and owners.
6 Sigma Green Belt (SSGB is its acronym) certification is the highest levelStatistics level A statistics level is the value of input in... Learn More... of this methodology. This certification can be obtained after passing the Six Sigma Training exam. Six Sigma has been a popular development in quality. It is all about making the company more profitable by increasing customer value and efficiency. Six Sigma is a long-term business strategy that focuses on reducing costs by reducing variability in products or processes.
What Is Six Sigma Green Belt?
It's a certification course. Participants will receive an introduction to tools and methods essential for participation in the DMIAC improvement project. This course covers the basics of DMAICDMAIC is an abbreviation of the five improvement steps it co... Learn More.... This certification course enables professionals to identify and solve problems.
Six Sigma is a people-driven organization. Six Sigma projects perform at a level that is comparable to the persistence, expertise, commitment, and dedication of each member of the team. Most people think of the Black Belts and championA Champion in a Six Sigma initiative is the executive sponso... Learn More... roles in deploying the project. Green Belts can play an important role in improving the performance of projects.
Green belts are team players who have the goal of improving processThere are many ways to organize your lean six sigma processe... quality. They bridge the gap between Six Sigma theory and the real-world application. Candidates play an important role in data inspectionAudits are usually performed by an audit manager. They aim t... Learn More... and Project Management. Green Belt training provides basic tools for project teams and teaches how to use DMAIC skills to relate to Six Sigma projects.
Certified Six Sigma Green Belt Personnel
Six Sigma Green Belt (SSGB is its acronym) works under or in support of a Six Sigma Black BeltSix Sigma Black Belt A Certified Six Sigma Black Belt can be... Learn More.... He/she analyzes and solves quality issues and participates in quality improvement projects. Six Sigma Green Belts have at least three years' experience in the workplace and want to share their knowledge about Six Sigma tools.
Certified personnel practice project administration on an occasional basis. They will likely spend 25 to 50% of their time on Six Sigma projects, and the rest in their primary area.
Six Sigma Green Belt is the heart of a Six Sigma Team. Its personnel make projects successful by helping with data collectionData Collection Plan A data collection plan outlines how dat... Learn More... and analysis. Six Sigma Green Belts are frequently called upon to contribute to Six Sigma projects that improve their daily work.
They're a potential leader. They are encouraged to lead brainstormingDefine Brainstorming Imagine that you are faced with a task ... Learn More... sessions and take the initiative on projects.
Six Sigma Green Belt certified personnel to head the project teamA project team level may consist of master black belts or gr... Learn More... and assist in improving the process. Certified personnel is responsible for the delivery of project results and the facilitation of the team through the use of DMAIC.
Certified professionals specialize in the management of specific projects using a strategic approach. Anyone can benefit from the Green Belt certification of a Green Belt expert. A Green Belt certified expert can quickly solve complex problems. They can not only solve problems but also identify the root causes of the problem and prevent it from becoming a costly internal disaster.
Characteristics of a certified Six Sigma Green Belt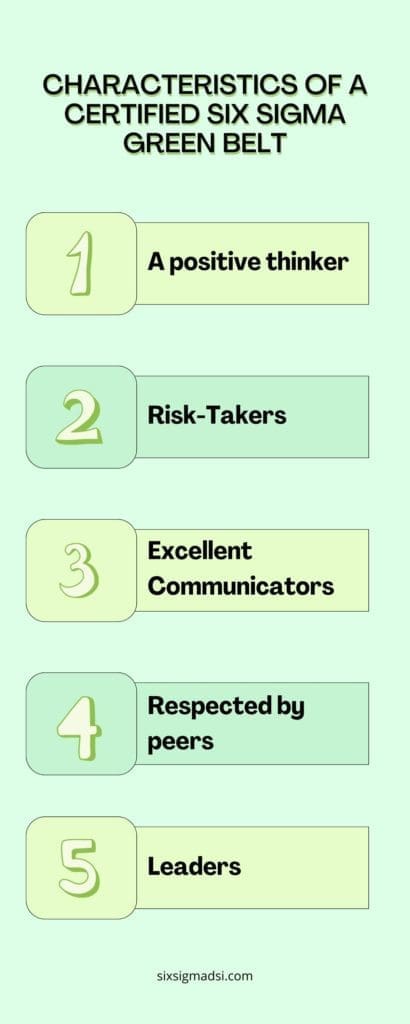 A positive thinker: They must think positively. They are positive and optimistic about the program's success. They are confident without being overbearing and defensive.
Risk-Takers: They must believe in taking risks.
Excellent Communicators: They must be excellent communicators. Certified personnel must communicate the details of tools to others. Change is hard for everyone on the team. To ensure that the project is accepted and supported by all members, they will have to be able to listen and respond positively.
Respected by peers: They are respected by their peers. Certified personnel must be trustworthy.
Leaders The key or central player in improving and need to accept leadership roles.
Ten facts about Six Sigma Green Belt
1. The national averageA synonym for "mean": the sum of a set of values divided... Learn More... annual salary for a Certified Green Belt in the United States is $95,261 (2019). According to Indeed.com, the #1 site worldwide, there are more than 50 countries and 26 languages available. This covers 94% of the global GDP.
2. Green Belt Certification, the most sought-after certification of all "Belt" levels within LeanLEAN Definition LEAN is a production method aimed primarily ... Learn More... Six Sigma, is highly desired.
3. Green Belt projects offer valuable exposure to the people and processes of the company. This increases your knowledge and makes you more valuable to the business.
4. Lean Six Sigma Green Belt Certification is a way to improve problem-solving skills – problems are something organizations will never run out!
5. Organizations around the world recognize Lean Six Sigma Green Belt certification
6. Manufacturing, Service; Sales, Marketing , or the Back Office, almost every area of any industry can benefit from Lean Six Sigma process

There are many ways to organize your lean six sigma processe...

improvement.
7. A Green Belt Certification will set you apart from other job candidates in terms of your problem solving and process management skills. It also puts you in a better place for promotion once you are hired.
8. While the content of the Lean Six Sigma Green Belt Certification offerings might differ, the structure is the same DMAIC: Define Measure, Analyze and Improve, Control.
9. Green Belt Training Tools aren't just for the workplace. You can also use them in your personal life.
10. Because it is about problem-solving root cause analysis, what you learn in Green Belt Training won't become obsolete. It's essential for every job in every sector.
Six Sigma Green Belt Career Paths
Project managers, manufacturing engineers, and process engineers are some of the most popular positions for Green Belt Certified professionals. Consultants are another example. Here is a list of potential jobs for certified professionals:
Consultant for Lean Six Sigma
Lead Manufacturing Engineer
Process Development Engineer
Compliance Structural Engineer
Engineer of Reliability
Operating System Specialist
Senior IT Project Manager
Warehouse Operations Manager
Business Process Analyst
Data Scientist
Project Engineer
Director of Performance Excellence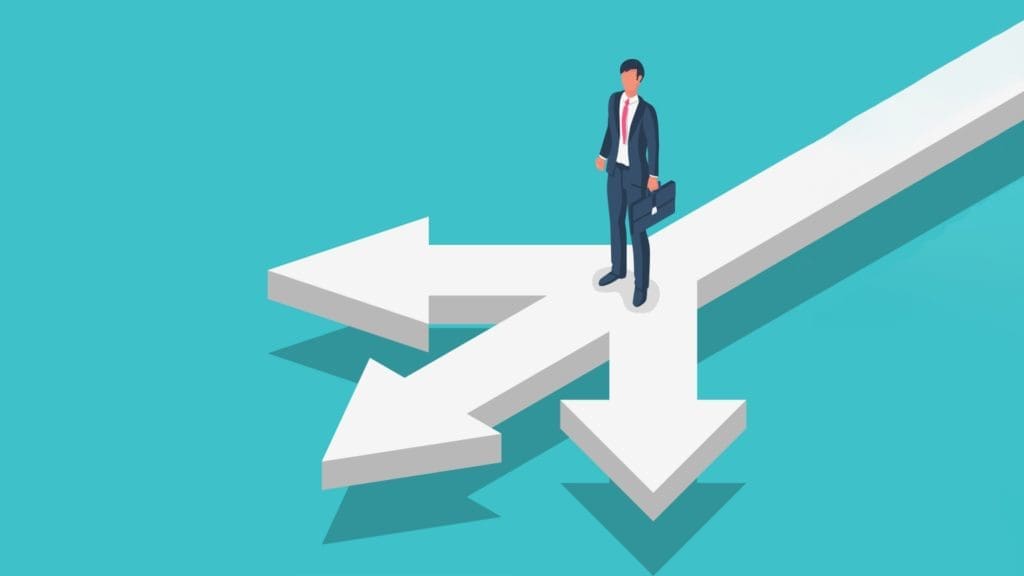 Why Should You Obtain a Certification?
Lean Six Sigma certification will equip you with the skills to solve complex problems in many industries. Lean Six Sigma and DMAIC will help you solve complex problems in any job. You will be able to lead and complete continuous improvementContinuous improvement (or Kaizen) is a way to identify oppo... Learn More... projects that increase efficiency, quality, and the bottom line.
Related articles