Table of contents
Lean Six Sigma in Human Resources (HR)
Lean Six SigmaSix Sigma Definition: Six Sigma is a set of techniques and t... Learn More... and other processThere are many ways to organize your lean six sigma processe... improvement methods such as LeanLEAN Definition LEAN is a production method aimed primarily ... Learn More... Six SigmaSix Sigma Definition: Six Sigma is a set of techniques and t... Learn More... have been adopted by corporations across all industries to combat inefficiencies, including HR, with lean activities.
The majority of people would agree that efficient operation is a key component to the success of a business. In a global marketplace that is highly competitive, any organization or division that supports inefficient and ineffective business processes will suffer a significant opportunity cost.
When Lean Six Sigma is applied correctly, it can lead to more efficient operations and better products for the customer. As a result, there have been investments in many areas, including supply chain, manufacturing, technology, and technology. Human resources are one area that may have not seen the same levelStatistics level A statistics level is the value of input in... Learn More... of investment. By its nature, human resources do not seem to be an area where process improvements would be beneficial. Since HR does not produce a tangible item, it is difficult to quantify the level of satisfaction in this area.
HR provides a service in routine operations. There is always room for improvement in routine operations. This can result in a more efficient service to customers (in this instance, employees). Six Sigma is a data-driven framework that improves the quality of repetitive HR business functions. Six Sigma achieves this by reducing variation around the averageA synonym for "mean": the sum of a set of values divided... Learn More... of the process. Six Sigma is a way to ensure that HR functions are within acceptable levels of quality and performance. This is often referred to by the term "HR process entitlement"
Why is Six Sigma important for Human Resources?
Lean Six Sigma uses statistical hypothesis testingHypothesis testing definition A statistical hypothesis test ... Learn More... to provide evidence for every activity's claim. It is therefore extremely reliable and widely applicable. The data sampling rules must be strictly followed.
Six Sigma reveals obfuscation and repetition of claims as early as possible. Six Sigma also helps identify gaps, recommends models of optimization for business processes, and suggests budgets, training, and orientation requirements.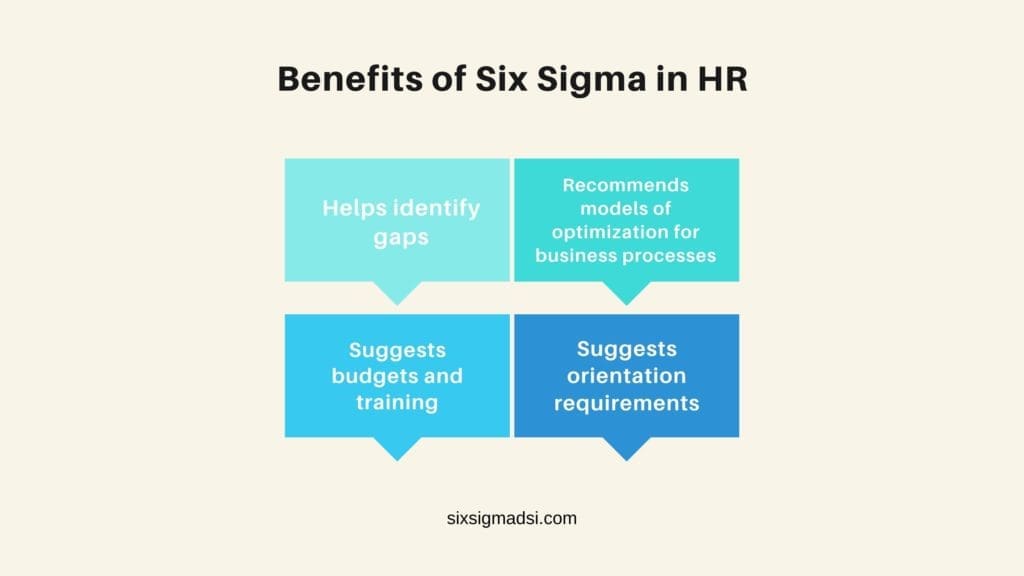 Lean Six Sigma is an industry agnostic
Lean, Six Sigma, and Lean Six Sigma are all industry-agnostic. Six Sigma and Lean were originally developed in the manufacturing industry, but their ideas can be applied to any business.
Lean and Six Sigma techniques have proven successful in a wide rangeIn statistics, the range of a set of data is the differenc... Learn More... of industries, including healthcare, government, education, and the military.
HR is not the only area that can be successful. Lean Six Sigma can help HR succeed just as it has helped other operations in an organization with lean activities. Lean Six Sigma, for example, could improve HR in the following quantifiable areas.
Compensation processes Examples include determining bonuses pay benchmarks and approving overtime.
Orientation process Every orientation process involves paperwork, and routine tasks and can be optimized
Recruitment Processes– Does the company respond to new hires quickly? The process of creating job listings is it as efficient as possible?
Talent Acquisition: Challenges and Opportunities
When trying to recruit talented employees, HR departments are faced with challenges. Talented people have the advantage because they can choose between many offers and carefully compare them.
According to the Society for Human Resource Management, HR departments can use Lean to streamline their operations, reducing wasteful and unnecessary steps, while improving efforts to acquire talent.
Peter Peterka, CEO of Global Six Sigma and SHRM, said that Lean can benefit companies in many ways. Included are:
Create a template of qualifications that defines the qualities of the ideal candidate for certain teams or positions
Create detailed job descriptions to attract the best candidates
Forming a strategy for staff retention to keep the best talent aboard
Train your staff to develop their talents
The Waste in the Talent Acquisition Process
When it comes to recruitment, a slow response time from applicants can be costly. Six Sigma for HR can be used to evaluate current processes and eliminate those that are not working.
The most common problem is waitingMuda (無駄, on'yomi reading) is a&nbsp... Learn More... for hiring managers to give feedback on possible hires. Delays can also be significant as companies await the final approval of job offers.
According to SHRM evaluating the process with Lean can help to resolve these issues. This includes making sure that everyone understands their roles and responsibilities in order to meet deadlines.
To achieve this, an HR project teamA project team level may consist of master black belts or gr... Learn More... can create a flowchart or spaghetti chartSpaghetti Chart A spaghetti chart, also known as a Spaghetti... Learn More... that visually depicts the talent acquisition process from beginning to end. To reach that point, an HR project team can create HR Analytics and offers a detailed explanation of how the DMAICDMAIC is an abbreviation of the five improvement steps it co... Learn More... Framework can be applied to process improvement methods by using advanced analytics. This, they claim, will lead to a more accurate assessment of a system.
Lean is a good option for those who are looking to get into HR. Avery Point Group, a global executive search firm, and recruiter conducted a recent study that found more than ever before companies want to hire people with Lean expertise in HR and other departments.
In a release on the report, Tim Noble, managing principal of The Avery Point Group, said: "I cannot think of any company who claims to be world-class that does not use some form of continual improvement approach." "World-class is defined by your customers as well as your competitors. In today's highly-competitive global economy, without a continuous improvementContinuous improvement (or Kaizen) is a way to identify oppo... Learn More... strategy, you are barely treading the water.
Employee Retention and Growth
Lean Six Sigma helps reduce wasteMuda (無駄, on'yomi reading) is a&nbsp... Learn More... and improve HR processes. HR can also play a critical, active role in creating a Six Sigma culture within a company.
Six Sigma Black Belts, for example, are some of the most important members in an organization when it is time to develop and implement Six Sigma processes. Where can you find candidates for such a critical role, and who will supervise training? Organizations tend to be very selective about the people they choose for these critical roles.
HR managers should take the lead and work with executives to create a competency-based model. This will help identify individuals who have the greatest potential to excel in Lean Six Sigma roles.
Some areas that they can concentrate on include:
Communication skills
Leadership Ability
Management skills
Process expertise is a key to success in any organization
Positive attitude
The development of Yellow and Green Belts is important for improving employee retention. It can also be a great opportunity for key employee to develop their career. It is a win for the employee and the company.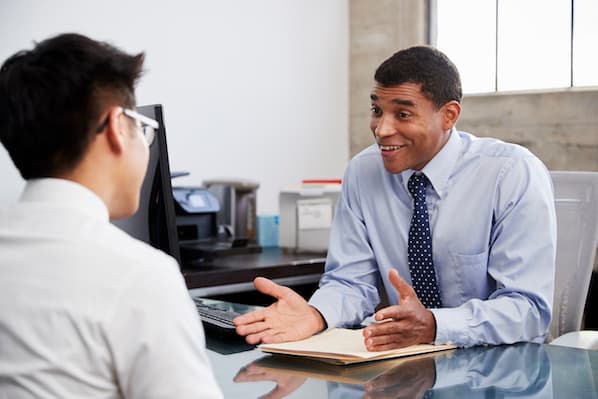 Establishing A Six Sigma Culture
Black Belts have many skills that are directly applicable to HR leadership roles. In HR leadership roles, it is beneficial to have people with Lean Six Sigma skills, process improvement methods, and activities. Many job postings list Lean Six Sigma-related skills for HR professionals.
HR departments that have Lean Six Sigma-trained employees are better equipped to create an aligned culture. This culture is data-driven, focuses on continuous process improvements, and takes an analytical approach. Even when executives are fully on board with the idea, they may not know how to implement it. HR professionals are experts in this field and can advocate for change, and start to implement processes that support continuous process improvement.
Lean Six Sigma can have a major impact on an organization. obtaining certification in Six Sigma can be a first step for HR professionals to combine these two fields.
Are you looking to apply Six Sigma project to HR?
Leave us a comment down below.
Related articles