What is business process management?
BPMBPM Business Process Management Business process management ... Learn More... (business process managementBPM Business Process Management Business process management ... Learn More...) can be used to look at and control the processes within an organization. This is a fantastic way to ensure that your organization's processes are efficient and cost-effective in times of crisis.
Business processThere are many ways to organize your lean six sigma processe... management refers to how we analyze, identify, modify, and monitor business processes to make sure they are running smoothly and can be improved. It is often referred to as the daily flow of work. Although "workflow" does fall under the process improvement umbrella, it is still an important piece in the access and uses puzzle. Poor processes do not affect your ability to find and leverage information.
BPM (business process management) can be described as a business process, which includes structured methods and techniques. Although it is not a technology, many technologies can be used to help identify and modify existing processes to align with desired future outcomes. It's about institutionalizing better ways to do work. BPM (business process management) is a broad discipline. It is dynamic because the roles and tactics of organizations, business objectives, and other elements that it covers, are constantly changing. BPM has been used to accommodate many optimization methods, including Six SigmaSix Sigma Definition: Six Sigma is a set of techniques and t... Learn More... and LeanLEAN Definition LEAN is a production method aimed primarily ... Learn More... Management, as well as AgileLean agile allows teams to identify and eliminate waste whil... Learn More....
What are the stages in the BPM lifecycle?
BPM (business process management) covers a lot, as you can see. When describing a BPM project, many BPM professionals refer to the five phases as follows:
Design. Analyze existing processes to determine where improvements can be made. Next, create the business process that should exist using standardization.
View the Model. See how the redesigned business process works in different situations.
Implement. Perform improvements, including standardization or process automation.
Monitor. Track improvement to see their performance.
Optimize. Continuously improve your business process.
Although the BPM Lifecycle may seem simple enough, each phase can be lengthy and require careful planning. Many business processes involve multiple departments and systems. For example, onboarding an employee could include not only HR but also IT to issue security credentials, computer equipment, finance to set up tax documents, and training programs for on-the-job education.
BPM best practices
Best practices have been developed to keep the complex work of improving BPM's performance as it matures. In Morris' article " 16 BPM best practices to ensure project success", the first thing on the to-do list is to understand that BPM should be considered a business project and not a technology project.
A BPM (business process management) Center of Excellence can be a great practice for large and mid-sized companies. Morris also offers these tips:
Use simulation modeling
Add performance measurement using clearly defined KPIs to the workflow models.
Create inter-disciplinary teams
Use a formal BPM method.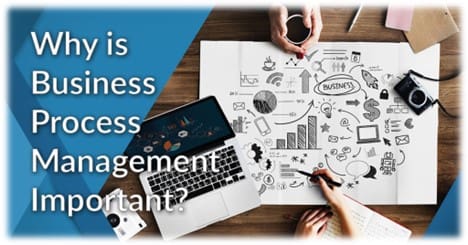 What is the importance of business process management?
Effective business processes are essential for enterprise success. Business process management is vital. These are some common examples of processes that assist companies to achieve their business goals:
managing customer service
Assimilation of a new employee
Develop and make a new product
Fulfillment of a Product Order
These business operations may involve hundreds, if not thousands of tasks and all the approvals necessary to complete them. These business operations typically involve employees, IT systems, and other machinery in the company. They can also include business processes and outsourcing providers. These tasks can be broken down into repeatable, structured steps that workers can follow to achieve consistent results. Organizations can predict their resources and reduce the risk of over-or under-allocating them. The steps can be measured to identify weak links and bottlenecks. This will help you find potential business process improvement.
Poorly designed or managed business processes can lead to productivity and efficiency problems for companies. If an inefficient process is left alone, it can lead to deficient performance and undermine business goals.
BPM's systemic methods for discovering and modeling, improving, automating, monitoring, and continually monitoring business processes are designed so that this doesn't happen. BPM can help companies deliver services and products efficiently at a lower cost. It also aligns business goals with processes. According to process experts, BPM is still relevant today because it allows companies to adapt to changing requirements.
The 21st century is witnessing rapid business change and it shows no sign of slowing down. To succeed, organizations must be able to respond quickly and effectively. Daniel Morris, principal of Wenden Transformation Consulting, a company that specializes in business transformation, stated, "Playing catch up is no longer an option. Things are changing too quickly." Companies that are successful leapfrog their competition by using innovative ideas, methods, and products are also thriving.
What are the advantages?
The structured approach of BPM (business process management) to managing business processes improves quality and operational efficiency. These are the main reasons why companies adopt it. A well-executed BPM Program can reduce wasteMuda (無駄, on'yomi reading) is a&nbsp... Learn More..., reduce errors, save time, and increase compliance. It can also support digital transformation. This will lead to better products and services for customers.
"BPM helps organizations streamline their workflows by automating tedious tasks such as data management and data flows, data entry approval processes, report generation, and data management," stated Isaac Gould (research manager at Nucleus Research).
BPM can be used as a management tool for these reasons:
Automated tools improve efficiency and allow employees to focus on tasks that require human intervention and expertise.
These tools give employees more time for process improvement and automation that will allow them to continuously improve their business processes.
BPM's emphasis on standardizing processes lowers the risk for human errorStatistics error The dual dimension of error statistics is p... Learn More....
Embedded analytics provides managers with greater visibility into process performance and allows them to identify bottlenecks.
The benefits of BPM (business process management) can be applied to all aspects of business operations if done well.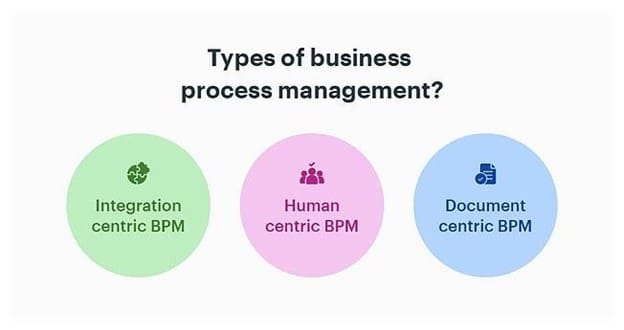 Types of Business Process Management
BPM is a broad discipline that often involves multiple tools. Some BPM experts discuss the discipline using the following categories.
Human-centric. Business Process Management can also be focused on processes that people manage. These business processes include those in business applications with features that are designed for human interaction such as an intuitive user interface, notifications, and alerts.
Document-centric. This approach focuses on documents such as formatting, signing, and verifying contracts. Business process management tools often specialize in one task that is document-centric, such as signing documents.
System-centric. These types of BPM focus on workflows within business systems that can be integrated into enterprise applications without human intervention. Two examples are automated processes in customer relations and enterprise resources planning systems.
What are some of the challenges?
Any business initiative that changes the status quo presents many challenges. This is particularly true for BPM (business process management) because the complicated work of improving process efficiency requires a variety of roles, systems, and methods of working.
Organizations must prepare for any challenges that they may face and have a plan to address them. This is according to George Lawton (technology reporter), who discusses technology-enabled business transformation.
Poor process visibility and traceability
Inflexible incentives and third-party contracts.
Inadequate testing infrastructures
There is confusion over the best tool for the job.
These are the top causes of BPM failures.
Lack of support and executive buy-in
Uncertain business goals and objectives
Hidden processes are vulnerable to failures
Different Types of BPM Technology
Business process management software (BPMSBusiness Process Management Systems' key advantage is its ab... Learn More...) is designed to automate business processes. Often referred to by the suites or BPM, BPMS is a collection combining different technologies.
Business rules engines (BREs), which allow end-users to modify business rules without needing to ask a programmer.
Simulation and testing tools are used to observe how processes work without the need for programming.
Process mining tools are used to discover, represent, and analyze the tasks that drive business processes.
BPMN tools to diagram business processes
Workflow engines that automate the flow and management of tasks in a business process.
The business management software has been expanded to include more information about what it is, how it's used, and the standard features that you can expect. Here's a summary of some recent developments in BPMS.
RPA vs. BPM
BPM and robotic process automation (RPA), which were once considered rivals or even enemies, are now complementary partners.
RPA software tools or bots are programmable software that automates repetitive and manual tasks based on rules. They mimic the click-and-type actions of humans to enter business applications. Another advantage is that this software is very user-friendly and can automate access to legacy applications that do not have modern APIs. RPA is better suited to automate discrete tasks than complex business processes. However, this limitation is decreasing as the software develops.
LCNC
Business Process Managers' increasing use of low code/no code (LCNC technology) means that businesses don't have to rely on professionals to optimize their business processes. Developers and business analysts can collaborate to model new business processes.
BPM is not a technology, but a discipline. This guide explains how to use it. It is a system of principles and techniques that improves processes using methodologies like Six Sigma, Total Quality Management, and Lean Management. BPM can or may not include automation. Proponents emphasize that BPM is both a mindset and a technical discipline. Companies who adopt BPM need to see the benefits of a process-based approach to achieving business goals as well as the value of continuous process improvement. BPM's collection enabling technologies, BPMS, have been developed to better meet the business needs for continuous improvementContinuous improvement (or Kaizen) is a way to identify oppo... Learn More... and rapid transformation at scale.
IBPMS
Gartner Inc. introduced the term intelligent BMS (iBPMS). BPM vendors use it to emphasize how advanced technologies such as machine learning, real-time analytics, complex events processing, business monitoring, and other systems have made process automation more dynamic, and data driven. These iBPMS products are also equipped with advanced social collaboration and social capabilities.
Examples and applications of BPM
Many departments in an organization use BPM (business process management) applications. Here are some examples of how BPM applications can be used to help achieve business goals:
Sales. Sales teams deal with both human-centric and system-centric processes. BPM tools allow for the coordination of invoices and sales quotes, which can help to reduce sales cycle times.
Finance. Finance departments are subject to a wide rangeIn statistics, the range of a set of data is the differenc... Learn More... of documentation, both from system-centric and human-centric processes. They are subject to a lot of paper and email forms regarding the company's financial operations. A BPM platform allows finance departments to quickly process employee travel requests. It can also simplify purchasing processes.
Human resources. BPM software can help HR departments become more efficient, such as by simplifying timesheet review. BPM software can also improve the speed and efficiency of onboarding new employees. Document-centric HR tasks can be automated to reduce the need for paper forms in a company.
What's the future for business process management?
BPM (business process management) is a structured approach for improving business processes. Although it is not new, BPM is constantly evolving. This is due to the changing nature of work and business in the 21st century. Businesses of all sizes have had to reconsider their processes to achieve their business goals due to the widespread adoption of digital technology and the necessity for them to compete in the digital marketplace.
These new requirements have led to BPM and the technologies supporting it evolving. Lawton discusses the factors that are changing BPM's status from being dominated by high-paid consultants to one that is driven from the bottom up in organizations. Here's a quick overview of these trends.
Major software vendors are now incorporating BPM functionality in business applications, which is expanding the reach of BPM principles.
Organizations can now create a detailed picture of each activity and optimize them with automated process mining tools. The manual work done previously by humans, captured in BPM through interviews or observation, will be easier to map and optimize.
The flexibility of process automation will be improved by adaptive process management or the ability to perform iterative modeling in real-time.
Companies will be able to differentiate themselves by using BPM to optimize front-end business processes that interact with customers and employees.
Citizen developer tools drive the democratization and adoption of BPM. This allows more people to use the tool to help improve their processes.
Intelligent business process automation improves process efficiency by incorporating AI and machine learning into workflows..
Related Articles