What Is a Quality Analyst: Job Description, Salary & More
Businesses can hire many employees, such as quality controlWhat is Quality Control (QC), and why does it matter? A busi... Learn More... analysts to develop products that will satisfy customers and provide useful products. Companies can use quality control analysis to ensure that they are creating products that will appeal to their target audience. Understanding what they do will help you decide if you want to pursue a role in this field based on your qualifications and goals. In this article you'll find out what a quality control analyst job description looks like and their salary.
What is a Quality Analyst?
A QA is a software tester but the job demands more than technical knowledge. For quality analysts to be promoted and receive better compensation, they need non-technical skills such as strong communication within and outside of the organization, teamwork skills, and problem-solving abilities.
Although the job description of a software quality manager varies by company, they are usually under the supervision of an IT manager as part of a team of developers.
Quality assurance is the answer. Quality assurance analysts evaluate and ensure the quality of products, systems, services, or software. In the tech sector, this mainly consists of software and systems.
Quality can be defined as the user experience (UX), functionality, and performance. To perform a quality analysis, QA analysts must:
Market research and competitor analysis
Planning, implementing, and creating test strategy
Analyzing the test results to identify bugs or inefficiencies
What is the role of a quality analyst?
Before goods are delivered to consumers, quality analysts conduct audits of products and processes in order to identify improvement areas. These analysts may also assist employees with training or performance evaluations. The exact duties will vary depending on the industry. However, some of the primary responsibilities include:
Test software and products for errors
Documenting defectsMuda (無駄, on'yomi reading) is a&nbsp... Learn More... and their solutions
Modeling customer behaviour to predict outcomes
Evaluation of employee performance and providing feedback
Noting common internal mistakes
Develop helpful guidelines that staff can follow
Understanding problems by analyzing data
Internal audits are performed on existing work
Reporting the results of reviews and tests
Building strategies for continuous improvements
Improve security measures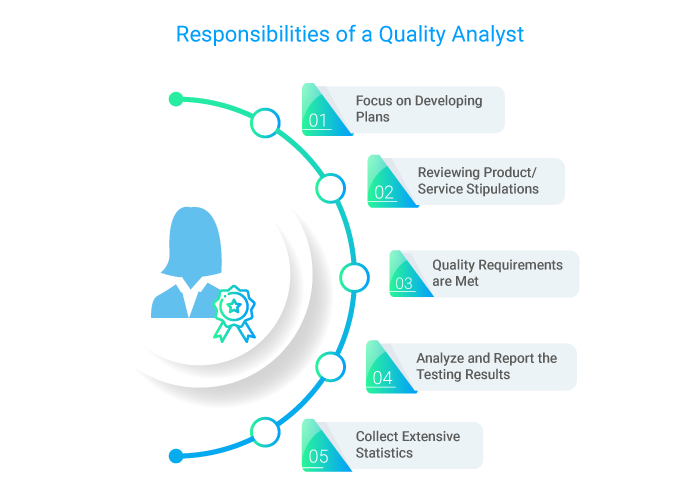 What Experience is Required to Qualify as a Quality Analyst
A bachelor's degree will usually be required for entry-level analyst jobs. This degree is perfect for the job. This degree is primarily focused on turning unusable data in to usable information. It also covers other important subjects that will help you become a QA Analyst, including:
IT management
System administration for data
Data management is a modern way to manage data
Data evaluation
Programming and scripting
If you want to specialize in the QA field, a Master of Science in data analytics degree is a great option. This degree is focused on the philosophy and application of quality analysis. You will use cutting-edge technologies to study these subjects:
Modern Analytics Tools
Data analytics
Exploratory Data Analysis
Data cleaning
Reporting and representation
What are the skills required for a quality analyst?
As corporate innovation and the demand for technology increases, so does the skill set required to become a Quality Analyst. The following abilities are required to be a quality analyst.
Detail-oriented
It is important to be particular. This will prevent interruptions in the supply chain and reduce rework and extra time. To achieve this proficiency, it is necessary to review every contribution and product improvement made by the team. This attention to detail is the key to effective office manners that are expected in the corporate sector.
Time Management
They are not only concerned with their own deadlines, but also those of other teams. They must coordinate closely with other teams regarding deadlines. The performance of a QA is directly related to their ability to manage time.
Flexible Analytical Approaches
It is beneficial for QAs to have a good understanding of the production processThere are many ways to organize your lean six sigma processe..., design methods, and desired features. This is particularly true when following guidelines that protect a product's uniqueness. A deep understanding of various quality analysis approaches allows QAs to be a versatile tool for improving a business's system of quality control.
Collaboration and Teamwork
QAs can communicate with testers, managers, business executives and programmers in a hierarchical manner. After all product uncertainty has been resolved by these experts and discussed with the QA, the product will be released to the market. The highest levelStatistics level A statistics level is the value of input in... Learn More... of coordination, and value-centric collaborative work are two qualities that enhance any QA's skill set.
Critical Thinking
Critical thinking can help find errors in the development cycle of a product and fix them. The QAs are required to produce solutions in any situation that will either replace an undesirable trait with a more desirable attribute or permanently resolve the problem. The QAs need to be able to solve problems well so that they can set resolution-based goals for other teams.
Communication
Interacting with partners, customers and other influential people within an organization is possible. To keep the responsible authorities up to date, everything from reporting bugs to flaws should be transparent. All communication, be it informal or formal, written or oral, must be error-free.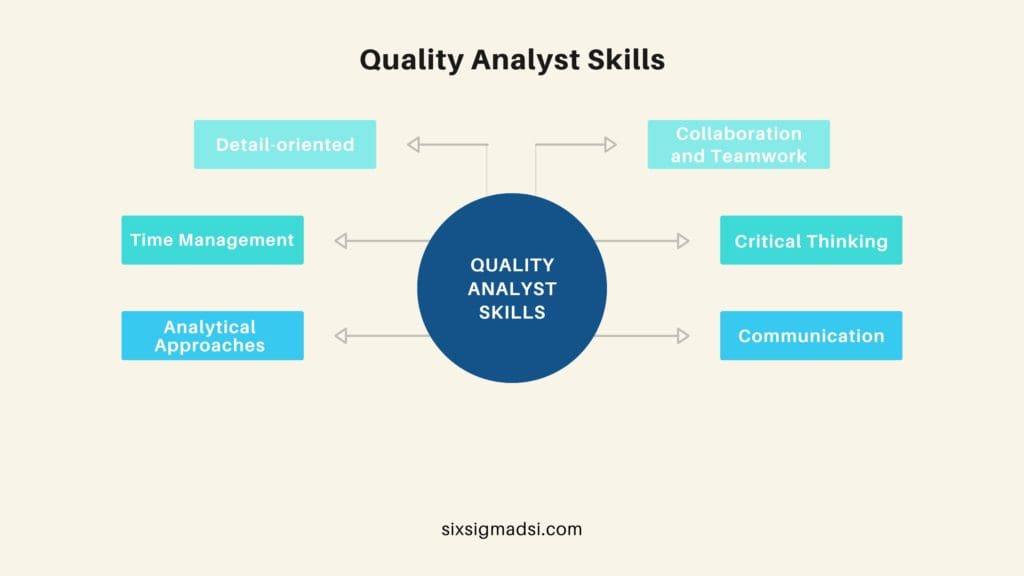 Quality Analyst Job Description
The following skills and qualifications are required for quality analysts, regardless of the business objectives.
Outstanding problem-solving skills and meticulousness
Communication skills that are outstanding in writing and speaking
Bachelor's degree or closely related field in computer science, plus several years of experience in environments that support the quality analysis
Career Outlook and Salary Expectations
Salary ranges for QA analysts are wide. The wide rangeIn statistics, the range of a set of data is the differenc... Learn More... of salaries is due to factors such as industry, location, experience, qualification level, and number of certifications.
The U.S. Bureau of Labor Statistics reported that the medianIn statistics and probability theory, the median is the... Learn More... annual salary in 2021 will be $109,020. Bureau of Labor Statistics reported that the median annual wage was $109,020. Glassdoor, however, reported that the averageA synonym for "mean": the sum of a set of values divided... Learn More... annual salary base was $76,154 with an additional $6,472 in annual income.
IT being a field that is in high demand and growing rapidly, the career prospects and job security of QA analysts in IT are very promising.
Career growth is also possible in several ways. The most common progression is from QA analyst to Sr.QA analyst, and then on to leadership roles in that division, like Test Manager or Team Coordinator. The skills and experience gained as a QA Analyst are highly transferable to a variety of IT roles like UI designer, or Product Owner.
Ready to become a Quality Analyst?
We can help you get there! Leave us a message down below.
Related articles