What is a Quality Manager? Job Description, Salary & More
Every industry strives to be the best. The best products and services can help to build a loyal customer base. A Quality Manager's job description includes their roles and responsibilities that can help you achieve your brand's potential before it goes to market. Businesses can achieve consistent excellence by ensuring that they are constantly monitoring, controlling, and improving their quality.
What is a Quality Manager?
In a highly competitive global market, it is more important than ever that businesses deliver high-quality services and products to continue to grow their customer base. This is why many invest in quality control programs for their organization.
A quality manager's role is to lead the charge in achieving success for an organization in its industry. Quality Managers are always striving to achieve excellence and continuous improvementContinuous improvement (or Kaizen) is a way to identify oppo... Learn More.... They work hard to improve processes, products, and practices both internally and externally.
A quality manager's work is never done. Quality managers work to improve products and processes by implementing various quality improvement methods such as Lean Six SigmaSix Sigma Definition: Six Sigma is a set of techniques and t... Learn More..., ISO, and the Toyota Production SystemTPS – The Toyota Production System The Toyota Production ... Learn More....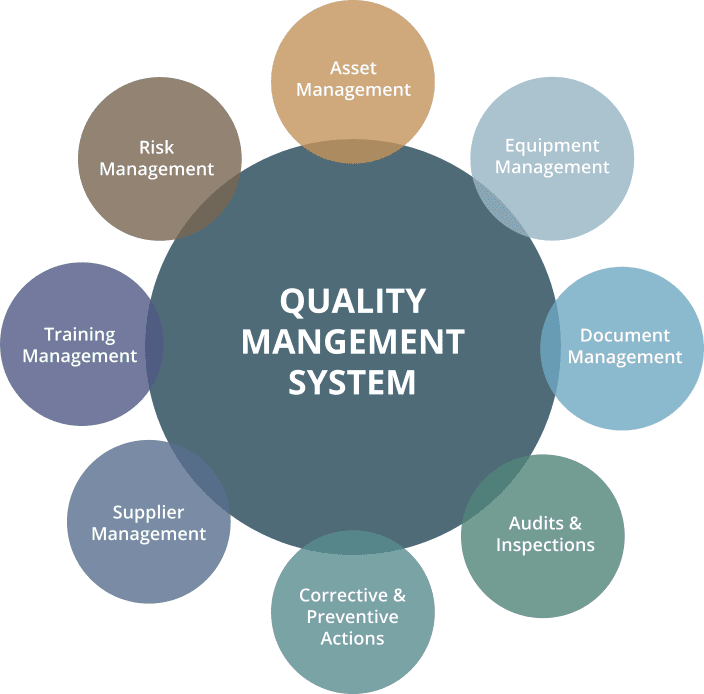 Qualities and Skills of a Quality Manager
A good Quality Manager must be observant. Their main job is to notice things that are not in place or imperfect. Successful Quality Managers are able to make the right decisions and judgments when it comes to deciding whether to repair or discard a product. They must be able to act on their observations and offer strategic suggestions to improve quality standards and the accuracyIn a set of measurements, accuracy is closeness of... Learn More... of shipments. Strong leaders, can train and motivate their team by providing them with feedback and suggestions.
The skills and qualifications required of a quality manager are:
Report their findings to production managers and the corporate leadership.
All employees should be trained in quality assurance for the entire production process

There are many ways to organize your lean six sigma processe...

.
Examine goods or services for quality.
Organise meetings with the production or service managers to find out more about their policies and practices.
You should have excellent business management skills and experience in manufacturing management.
The Top Duties of a Quality Manager
The Quality Managers are responsible for ensuring that products sent to the consumer meet their expectations. To maintain consistent quality standards, it is their responsibility to train staff to identify defectsMuda (無駄, on'yomi reading) is a&nbsp... Learn More... and imperfections throughout the entire manufacturing and packaging process. They communicate their expectations to employees and monitor production processes in order to identify common mistakes or defects. They look for ways to reduce human errorStatistics error The dual dimension of error statistics is p... Learn More... in the production line and monitor the impact of policies. The Quality Managers measure the amount of wasteMuda (無駄, on'yomi reading) is a&nbsp... Learn More... that results from production errors.
The Quality Manager should use an industry-specific standard to measure the quality of the products or services. The Quality Manager should:
Compile and analyze information about the goods or services of your company.
Understanding the laws and regulations that are applicable to your sector at a regional, provincial, or federal levelStatistics level A statistics level is the value of input in... Learn More....
Write clear and informative reports that emphasize the key findings.
Ability to discuss with colleagues the quality standards to be achieved and how they can be met.
Quality Manager Job Description
The Quality Manager (also known as Quality Assurance Manager) examines the final product to make sure it has been produced according to legal requirements. They also check if the finished product meets consumer expectations. A great Quality Manager is meticulous and pays attention to detail.
A QM should be familiar with the product specifications and feel responsible to the current and future clients.
The Quality Manager oversees, for example, Canbrands Speciality Foods Inc.'s compliance with the Food Safety and Quality Management System. The QM keeps up to date on changes in regulations and stays abreast of new training and certifications.
Who Does a Quality Manager Work With?
As a Quality Manager, it is important to have someone with excellent skills in customer service and the ability to train staff. They work closely alongside a Quality Inspector to ensure that the manufactured products meet all specifications.
Quality Manager Roles & Responsibilities
This role's responsibilities will vary depending on the company, industry, and size. The typical duties are:
Understanding customer expectations and demands by reviewing customer feedback
Manage waste and improve efficiency in production processes
Create production plans with an emphasis on quality for new products
Stress tests are a great way to assess the quality of products or services.
Quality issues are addressed by working with the management team to find solutions and make recommendations.
Reporting the quality of goods and/or services at all stages of production
Reviewing all materials supplied by suppliers and assessing their overall quality
Quality issues can be resolved by identifying the root causes and proposing solutions.
Induction and training of new members to the Quality ControlWhat is Quality Control (QC), and why does it matter? A busi... Learn More... Team
Keep up-to-date with the latest quality control methods and techniques
Quality Manager Salary
The compensation of quality managers is based on their importance to the success of their organization. The averageA synonym for "mean": the sum of a set of values divided... Learn More... salary for a quality manager in the United States amounts to $88,251. Quality managers may also be compensated with company profit-sharing programs, and benefits, such as health insurance, disability insurance, drug insurance, and 401(k).
The Top Industries with a High Demand for Quality Managers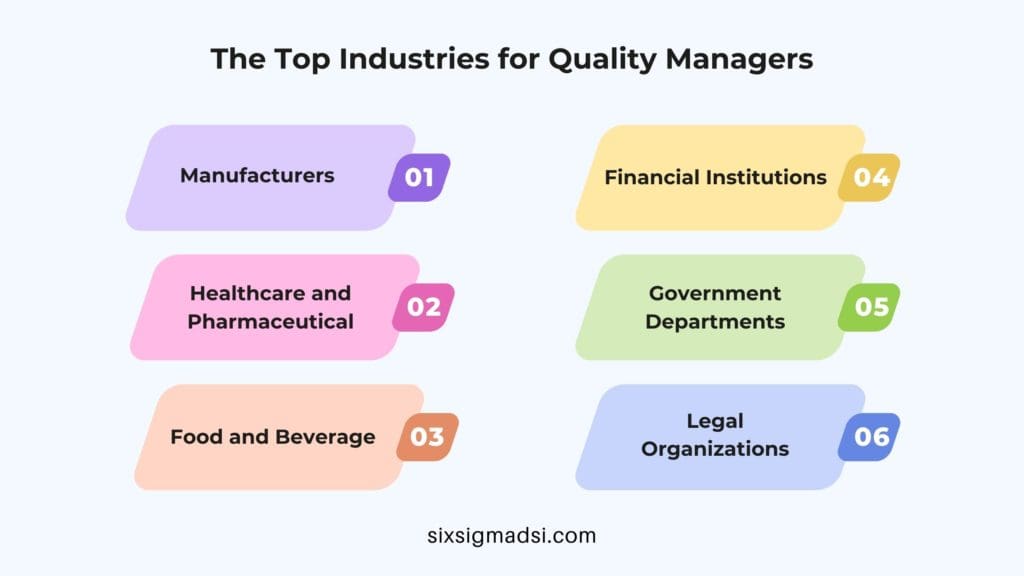 It's not surprising that organizations in a variety of industries rely on quality managers for the development of top-notch services and products within their operations.
The following are some of the industries that employ quality managers:
Manufacturers
Healthcare and Pharmaceutical
Food and Beverage
Financial Institutions
Government Departments
Legal Organizations
What is the Difference Between a Quality Manager and a Compliance Manager?
Both Quality Managers (QM) and Compliance Managers (CM) have a supervisory function to ensure that employees adhere to certain standards. Quality Managers are responsible for producing high-quality, consistent products that meet company specifications. Compliance Managers ensure that work procedures adhere to regulatory standards. Compliance Managers can oversee employee behavior, reporting procedures, and performance standards among other compliance issues.
A Quality Manager's role is to ensure that the production line is meeting all specifications. The Compliance Manager's purpose is to ensure that an organization is complying with its regulatory obligations towards both employees and consumers. Quality Managers are more concerned with the end result of the production process whereas Compliance Managers are more concerned about safety and ethics at work.
Experience requirements for a Quality Manager
A college degree is not enough for Quality Managers. They also need to have professional experience, especially in the assembly line process. For Quality Managers looking to advance their career, supervisory experience can be useful.
Interested in becoming a Quality Manager?
We can help you get there! Leave us a comment down below.
Related articles