Lean Six Sigma Project Management
Lean Six SigmaSix Sigma Definition: Six Sigma is a set of techniques and t... Learn More... is a powerful methodology that combines the steps of LeanLEAN Definition LEAN is a production method aimed primarily ... Learn More... and Six SigmaSix Sigma Definition: Six Sigma is a set of techniques and t... Learn More... certification levels to drive processThere are many ways to organize your lean six sigma processe... improvement and reduce wasteMuda (無駄, on'yomi reading) is a&nbsp... Learn More... in manufacturing, service, and transactional processes. This methodology is widely used by organizations to increase efficiency, reduce costs, and improve quality and customer satisfaction. Lean Six Sigma project management is the process of using Lean Six Sigma principles and tools to manage projects, achieve desired outcomes, and drive continuous improvementContinuous improvement (or Kaizen) is a way to identify oppo... Learn More....
In this blog post, we will explore Lean Six Sigma project management in depth, including the key principles, tools, and techniques used in the methodology. We will also discuss how to plan, implement, and sustain Lean Six Sigma projects to drive continuous improvement.
What is the Six Sigma Methodology?
Six Sigma, as you may have guessed from the business school notes, is a method that helps to identify and fix weaknesses in processes or results in higher errors.
Six Sigma is a term that refers specifically to the goal to reduce manufacturing defectsMuda (無駄, on'yomi reading) is a&nbsp... Learn More... to less than 3.4 per 1,000,000 units.
Six Sigma has been used by many companies over the years to save money and improve efficiency.
Visualizing the journey of your product or service from conception to delivery to customers can help you identify ways to improve efficiency and quality. This is what Six Sigma is all about.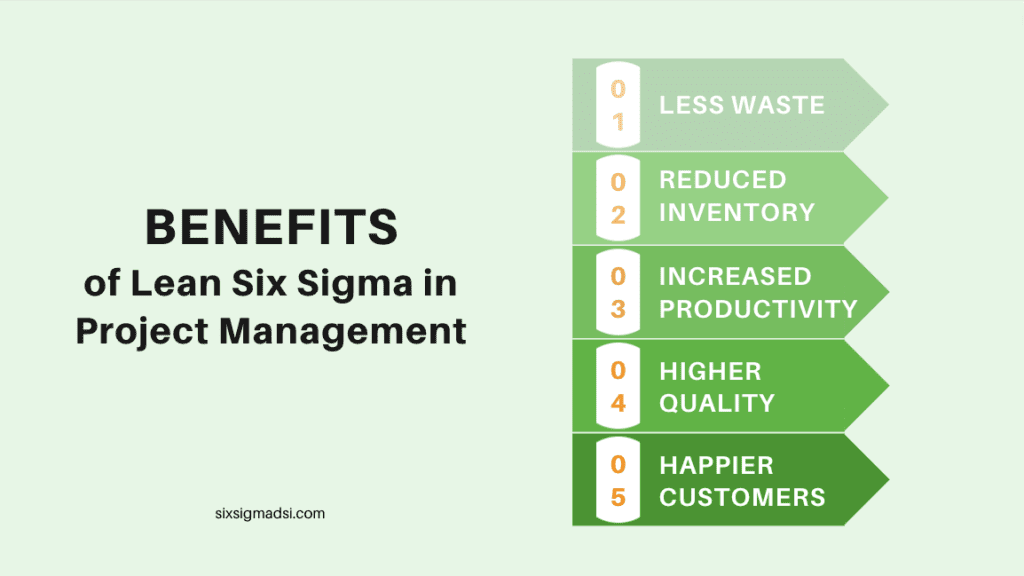 Six Sigma Methodologies
Six Sigma is the best approach to your project. There are two main sub-methodologies. This allows businesses to adapt the Six Sigma approach to suit their industry and project. Each offers a different approach, with each offering a unique way to improve processes.
DMAIC
DMAICDMAIC is an abbreviation of the five improvement steps it co... Learn More... is best used to improve an existing business process.
Define: Identify your need.
Measurement: Assess the current process and determine its effectiveness.
Analyze: Use data for evaluating current processes in order to identify areas where there are potential improvements or defects.
Make improvements and improve your process to help you achieve your goals.
Control: Create a system that will keep the process improved and anticipate potential roadblocks.
DMADV
DMADVDMADV is an acronym that stands for Define, Measure, Analyze... Learn More... is best used to plan a process that does not yet exist. This could be, for instance, when creating new products or improving customer relations.
Definition: Establish the client's/customer's needs.
Measure: Use data to evaluate customer needs, respond to a product/service, and the product/service's capabilities.
Analyze: Review the data to develop new goals and designs that meet client or customer needs.
Design: Use findings to create a product, process, or service that better addresses customer needs.
Test the design. Deliver it to the client. Create a plan to track its success in meeting customer needs.
Key Principles of Lean Six Sigma Project Management
Define-Measure-Analyze-Improve-Control (DMAIC) process: Lean Six Sigma projects follow a structured problem-solving process called DMAIC. This process involves defining the problem, measuring the current state, analyzing the data, improving the process, and controlling the results.
Customer focus: Lean Six Sigma places a strong emphasis on customer satisfaction, and projects are often initiated based on customer feedback. By improving processes that directly impact customers, Lean Six Sigma helps to increase customer satisfaction and loyalty.
Data-driven decision-making: Lean Six Sigma relies on data and statistical analysis to identify opportunities for improvement and to drive decision-making. Data is collected and analyzed to determine the root cause of problems and to determine the most effective solutions.
Continuous improvement: Lean Six Sigma is a continuous improvement methodology, and projects are not considered complete until the desired outcomes are sustained over time. Teams are encouraged to continuously monitor processes and seek out new opportunities for improvement.
Team-based approach: Lean Six Sigma projects are team-based steps and involve employees from all levels of the organization. By involving employees in process improvement efforts, Lean Six Sigma helps to increase engagement and satisfaction, and also allows for the sharing of knowledge and expertise.
Six Sigma as a Method of Project Management
You are likely to have your own method of setting up projects and managing them through their various stages. It is possible that you won't be willing or able to fix something that isn't broken. Even if you only borrow or adapt a few elements of Six Sigma, your chances of success are higher with Six Sigma's strict approach.
Build a team that succeeds: The Six Sigma method is so efficient because it emphasizes clear organization right from the beginning. Poor goals and contributor mistakes are not the reason many projects fail. Instead, organizational problems can be traced back as far as the project's inception. Even though you might not have a Black BeltSix Sigma Black Belt A Certified Six Sigma Black Belt can be... Learn More... leader, Green BeltThe Six Sigma Green Belt is a certificate that professionals... Learn More..., or Yellow Belt team members to guide you, the concept of strong, experienced leadership and clear team roles can be applied to help avoid conflict and lack of the necessary skills to complete the project.
Use DMAIC or DMADV to manage your project. Project management is an ongoing process. The steps you take to ensure a project's success, are part of a larger process that could always be improved. You can uncover weaknesses and areas of improvement in the way your team manages projects if you do a DMAIC-style assessment. Even if your plan is not DMAIC or DMADV, Six Sigma's focus on clear steps and an empirical approach will benefit you.
Measure and analyze to identify gaps: Six Sigma may have its roots in manufacturing but that shouldn't stop you from applying it to finding and reducing errors. Don't assume that your team is unable to explain failures or unexpected results if they are having difficulty understanding them. You can use a Six Sigma-inspired scientific approach to help you analyze your process and find any gaps.
Use data to get a better picture. Even though your team is already successful in achieving its goals Six Sigma's practical steps can help you use data to determine your wins and areas of improvement.
You can take pieces of this proven method and adapt it to your current workflow to improve consistency, streamline processes, and ensure success in your projects.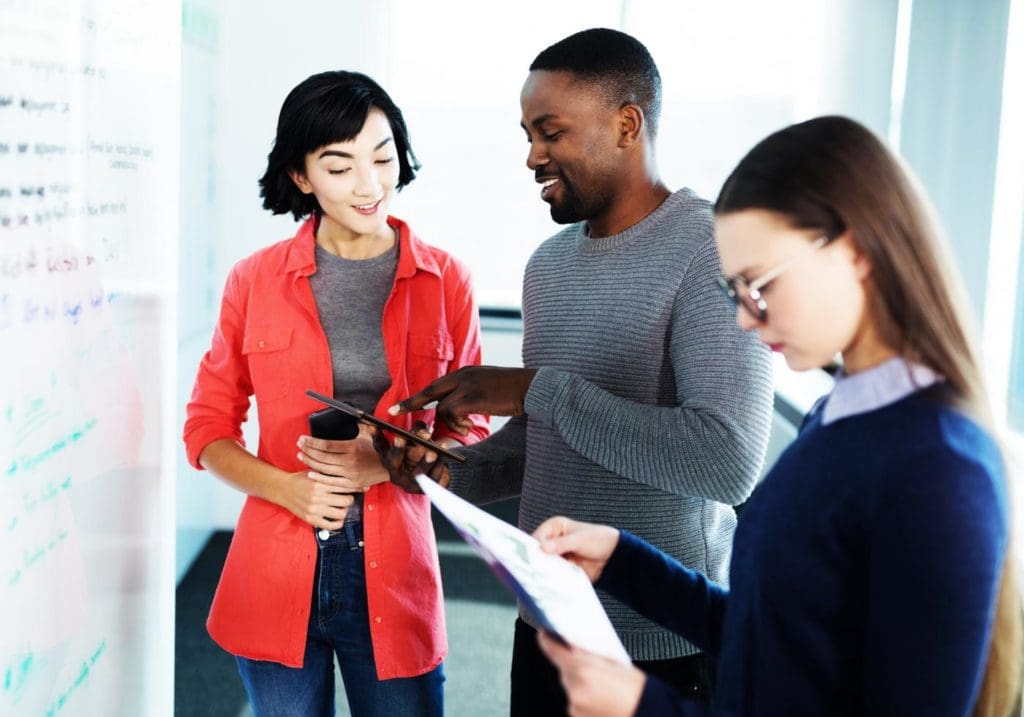 Lean Six Sigma Tools and Techniques
Value Stream MappingWhat is a Value Stream Map? Six Sigma's Value Stream Map is ... Learn More...: Value stream mapping is a tool used to identify and eliminate waste in a process. It involves creating a visual representation of a process, including the flow of material and information, and identifying areas where improvements can be made.
Control Charts: Control charts are used to monitor the stability of a process and to identify patterns or trends that indicate that the process is not in control.
Pareto Charts: Pareto charts are used to prioritize improvements by identifying the areas where the greatest impact can be made.
Fishbone diagrams (Ishikawa diagrams): Fishbone diagrams are used to identify the root cause of a problem by breaking it down into smaller parts and analyzing the relationships between the parts.
Statistical Process ControlWhat Is Process Control? Process control systems refer to th... Learn More... (SPC): Statistical Process ControlWhat Is Process Control? Process control systems refer to th... Learn More... is a technique used to monitor processes and identify when they are not under control. This helps to prevent defects and improve quality.
When to use this project management methodology
It is important to determine if Six Sigma is right for you. Six Sigma expert Bernardo Tirado starts by asking himself some key questions.
What is the purpose of this project? Does it introduce new technology? Are you going to see a 50% increase in job satisfaction? Are efficiency gains possible? Six Sigma was my favorite for operations initiatives. Operations have some processes that can be used to complement newer technology, or that could be repeated elsewhere. This allows the employees to perform more advanced activities.
These are just a few of the considerations when Six Sigma should be used.
To eliminate all waste, no matter if it's time, materials, or other resources
To minimize defects or variations in your product/service
To identify the root cause of problems
To make data work more efficiently to improve efficiency and productivity
To improve customer and employee satisfaction
To redesign or design a process that is inefficient.
Levels of Six Sigma Certification
The Six Sigma methodology has a certification program that recognizes individuals who have demonstrated knowledge and proficiency in the application of Six Sigma principles and tools. The levels of Six Sigma certification are:
White Belt: This is an introductory levelStatistics level A statistics level is the value of input in... Learn More... of Six Sigma certification, designed for individuals who want to gain a basic understanding of the methodology. White Belt certification does not require formal training or examination.
Yellow Belt: Yellow Belt certification is designed for individuals who are involved in supporting Six Sigma projects, but not as a lead. Yellow Belts are trained in the basics of Six Sigma and learn how to apply the methodology to their work.
Green Belt: Green Belt certification is designed for individuals who lead Six Sigma projects or serve as team members on larger projects. Green Belts are trained in the application of Six Sigma tools and techniques and learn how to apply them to real-world problems.
Black Belt: Black Belt certification is the highest level of Six Sigma certification steps, and it is designed for individuals who lead and manage Six Sigma projects. Black Belts are trained in advanced statistical techniques and are responsible for the successful implementation of Six Sigma projects.
Master Black BeltThe utmost level in the Six Sigma hierarchy is the Master Bl... Learn More...: Master Black Belt certification is an advanced level of Six Sigma certification steps, designed for individuals who provide leadership and mentorship to Six Sigma teams. Master Black Belts are experts in the application of Six Sigma and are responsible for ensuring the success of Six Sigma initiatives across the organization.
Certification programs are offered by a variety of organizations, including universities, consulting firms, and professional associations. It is important to research and compares different certification programs to determine which is the best fit for your needs and goals.
Related articles