What Is an Obea Room & How to Build One?
The term "Obeya" or "Obea", which means "Great Hall" in Japanese or "Big Room", was first used in the 1990s for the Toyota Prius. This method has been used in many projects since then and is especially useful when you want to have an overview of multiple-project programs. This method has become even more relevant today as it is now available online through the Obeya software.
Obeya, whether virtual or physical, can be a great way to improve project and program management. This guide will introduce you to Obea, its benefits and limitations as well as the Obeya software, a tool that is increasingly being used by employees who work from home.
These tips and explanations will help you to run your Obeya or iObeya meeting as smoothly as possible.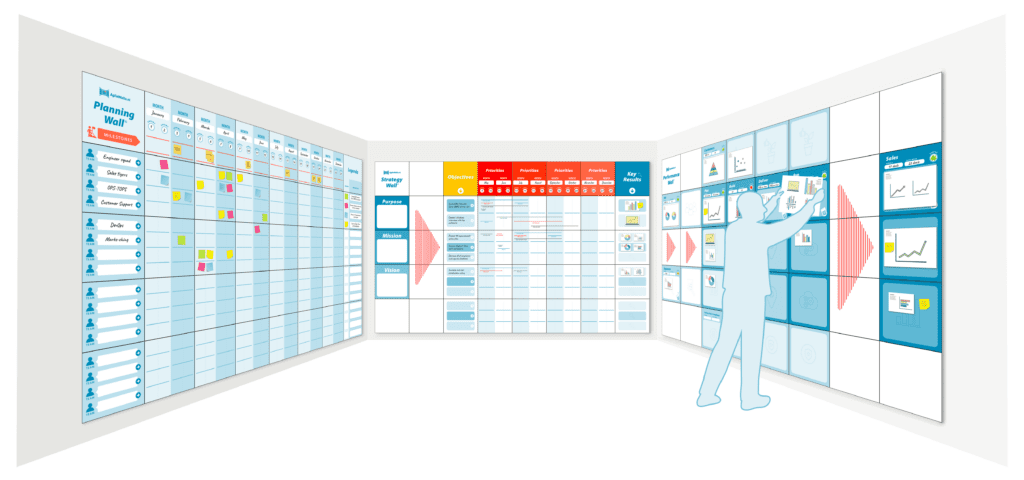 How to start using Obea Rooms
Obeya is a complex system to learn. This page will guide you in the right direction.
We have defined 9 steps based on the experiences of our network to provide you with a structured approach when setting up your Obeya. It is important to note that approaches that work for one organization may not work for another. Different approaches can sometimes produce the same results.
The purpose of this writing is to give Obea practitioners guidance and help without being dogmatic. It is possible to have good reasons for deviating from the steps outlined below. Obeas is a learning experience that can be valuable from the very beginning. There is no absolute truth. We are confident, however, that these steps will help you to get started with your Obea.
Step 1: Get familiar with the 11 Obeya Principles
We would recommend that anyone familiarize themselves with the 11 Obeya Principles. The 11 Obea principles are divided into four quadrants, Mindset Alignment Workspace, and content.
Together, they define an Obeya. They can help you distinguish between what is required in terms of rhythm, behavior, data, appearance, and more.
If you pile them up, it's probably too much to absorb. Study them carefully, and then take each one into consideration one by one. You'll be able to start putting together a picture of how you might apply them in your particular situation.
Step 2: Define your Obeya Purpose
What are the decisions you would like to be informed about? This might seem like a strange question, but it's really the essence of an Obeya. At this stage, there are two things that are important.
First, for people to accept and build Obeas, they need to feel a sense of urgency. It is important to identify (and then define) the problem that you are trying to solve using an Obea.
Second, let's define success. What has changed if you are successful? This helps you define and communicate what role your Obeya is going to play, and why people should join. Early on, defining an Obeya's purpose will guide you throughout the entire processThere are many ways to organize your lean six sigma processe.... At certain times it can help when your Obea room is at risk of derailment or becoming out of control.
The Obeya Basics training is a great place to start. Obeya Associates may download the module from the Obeya Associates Document Library when logged in.
Step 3: Determine which principles need the most attention
A focused start can be very helpful. Now that you know what an Obea means and have defined its purpose in relation to the urgency of your organization, it is important to get started. We know from experience that focusing can be beneficial. You can use the experience gained to guide you in your improvement and inform you of what you should do next.
We designed the Obeya Focus Scan to address this issue. The scan is not designed to be fancy. It's meant to be performed while you are drinking a beer in the bar. It's practical and straightforward, exactly how you want Obeya. You can use it to rate yourself but group results are better. This shows you your top three priorities for which of the eleven Obeya Principles you should focus. It is recommended to repeatReplicates in statistics refer to the repeated, non-consecut... Learn More... this exercise every three months.
Step 4: Choose an appropriate Obeya Methodology
The 11 Obeya Principles provide you with an overarching framework but there are a few approaches or methodologies that you might want to consider for your first Obea setup. From here you can further improve based on your needs and learnings as you progress your Obeya.
Three often used methodologies are 1) the 6 panels approach, 2) the PDCAPDCA is a cycle of improvement based on a scientific method.... Learn More... approach, and 3) the Leading with Obeya approach.
Choosing either one of these basic setups will help in getting your first basic data/information categories organized.
Step 5: Assign Obeya builders and Obeya hosts roles
It is important to have or develop skilled Obea experts right from the beginning. When you assign knowledgeable professionals to your Obeya, not only will its quality and effectiveness improve, but also the speed at which it develops can be increased.
Finally, there will come a time when Obeya becomes more than "the new thing". It will become a way to work. During this transition, the "old system", shows a certain amount of reversion to the status quo. The "old system" is pulling back towards the situation your organization wants to leave behind. The difference that can be made by training dedicated and committed Obeya experts is huge.
We show in the book "Obea by the Obea Association", the practical connections between the 11 Obea principles and the roles played by Obeya builders and Obeya hosts. It is important that you familiarize yourself with the practical advice provided. Download the Obeya Training Modules in the Obea Library for more information on the role itself.
Step 6: Choose a core Obeya team to begin with
After you have done your research and selected the Obea builders and Obea hosts, you will need to decide which team you would like to launch your Obea.
The ideal team is made up of people who are both willing and capable of contributing to the development and growth of your Obeya and benefiting from the results immediately. You don't want the team to be too big, as you need to be able to move quickly. The team should have enough in common to allow them to work together and discuss relevant and real issues.
Include individuals who understand and have access to relevant data sources. Select people who can commit time and energy to the process. Avoid switching or delegating as much as possible.
A core team composed of Obeya could include 1 senior sponsor and 3 key users. Also, there would be an Obeya room host, 1 Obeya builder, and 2 data analysts.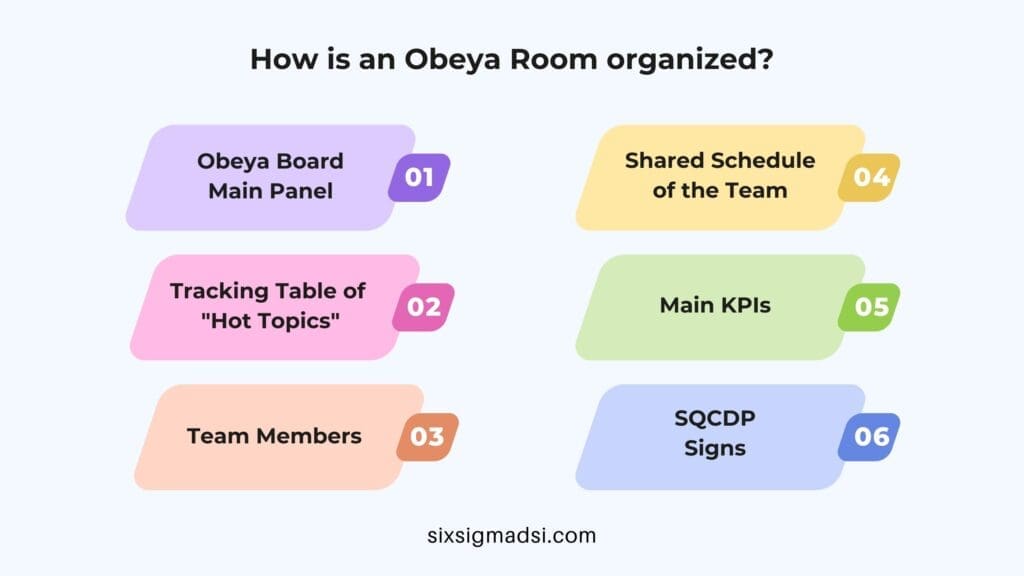 Have you ever used an Obeya room?
Tell us about your experience in the comments below!
Related articles