What is a Six Sigma Green Belt project?
The Lean Six SigmaSix Sigma Definition: Six Sigma is a set of techniques and t... Learn More...Six Sigma Green BeltThe Six Sigma Green Belt is a certificate that professionals... Learn More... certificate is a key step toward mastering the technique and leading improvement projects in a company. Based on the skills and knowledge gained during LSS Yellow Belt training, LSS Green Belts help to identify areas that need improvement and then play a crucial role in implementing the changes. In this article you'll also discover Six SigmaSix Sigma Definition: Six Sigma is a set of techniques and t... Learn More... Green BeltThe Six Sigma Green Belt is a certificate that professionals... Learn More... Training near you, stay tuned!
Before we get to the six sigma green belt projects and their examples, let's first learn about the Six Sigma Green Belt Training. You'll be able to manage small-scale improvement projects, which, if they are successful, will give you a real sense of accomplishment.
Green Belts play a significant role in any improvement project. This results in improved company productivity and profitability. Under the guidance and supervision of an LSS Black BeltSix Sigma Black Belt A Certified Six Sigma Black Belt can be... Learn More..., or Master Black BeltThe utmost level in the Six Sigma hierarchy is the Master Bl... Learn More..., they put the improvements into action.
A Review of Six Sigma Green Belt Projects
LeanLEAN Definition LEAN is a production method aimed primarily ... Learn More... Six Sigma Green Belt projects are designed to address business problems one by one. Lean Six Sigma projects are guided by a company's strategic goals (or KPIs). These projects are designed to solve problems for customers, both internal and external. Any Six Sigma Green Belt Project that is successful will result in cost savings, quality improvement, and increased capacityCapacity refers to the maximum amount of work, output, or a ... Learn More....
Here's how to build them before you get on with the six sigma green belt examples. This is how it works.
Are you referring to a Green Belt project or an implementation project?
Potential customers often ask us for our opinions on the ideal Green Belt project. This is in preparation to help them with their improvement projects and their own development through our Green Belt program.
Many customers feel confused when they're given a project to do. They don't know if the project qualifies for Six Sigma Green Belt Training status. They may be given projects to manage if they work in an environment that is accustomed to giving them such tasks. If they work in an environment where they are given projects to manage (i.e.).
They are not interested in a project that focuses on solving a problem without knowing the root cause. Instead, they will develop and test solutions before implementing them.
This cycle is used by me to show clients how to think and make decisions when they are faced with the same problem. The Improvement Cycle will help you decide if your project is suitable for improvement.

Build Your Project
Sponsor
We will start at the beginning to give you the best chance of success. Begin by meeting with your manager, or, if not, the Project Sponsor. This is before you register for the Lean Six Sigma Green Belt course or LSS green belt project examples. This may seem obvious, but it is amazing to see how many students I meet that want their Green Belts, but don't know who to support them or where they can find projects to do so.
Project Scope
If you have a sponsor, which is ideally your boss or other supportive leader, the first topic to discuss is the processes that need improvement. You won't be able grow and learn as much if the project is too small. It will be hard to complete the project in the time allocated or even impossible. Therefore, having a wide scope can be a great asset. To reduce the number of projects that are viable, it is a good idea to focus on a processThere are many ways to organize your lean six sigma processe... that is stable, but not well-organized, and needs assistance.
Measure Phase
This fourth recommendation is directly opposed to what I call the "jumping from analysis and improvement" errorStatistics error The dual dimension of error statistics is p... Learn More.... In far too many Green Belt initiatives, and in lean green belt projects, students first identify the things they will measure and then move on to the Analyze or Improve phases. After you have defined your project, the Measure phase is the next step. Students should take the time to evaluate their current process. It is important to understand the current situation before making any changes.
Record The Prior
The sixth tip can also be implemented in the Measure Phase. As many photos as you can of the current state as is feasible and appropriate. After the changes have been made, you can return to
the original vantage points and angles. It shows the changes and progress made. These images speak for themselves. Once the technique is altered, it is almost impossible to duplicate.
Use Tools
The best advice for the Analyze and Improving phases is to use only the core Lean Six Sigma Green Belt Tools appropriate to your project. Many students want to use all the tools in their toolbox. This is not necessary. If you use the right tool(s), you'll see a significant improvement in your measures.
Lean Six Sigma Green Belt Projects: Characteristics
A green belt project has many characteristics. This includes support from the top management and a well-defined project. It will be a constant effort by all involved.
Green Belt Project Characteristics
Improve the implementation of processes
To make it better, increase output
You should address issues such as defectsMuda (無駄, on'yomi reading) is a&nbsp... Learn More..., complaints from customers, returns, extra expenses, and time.
Reduce wasteMuda (無駄, on'yomi reading) is a&nbsp... Learn More...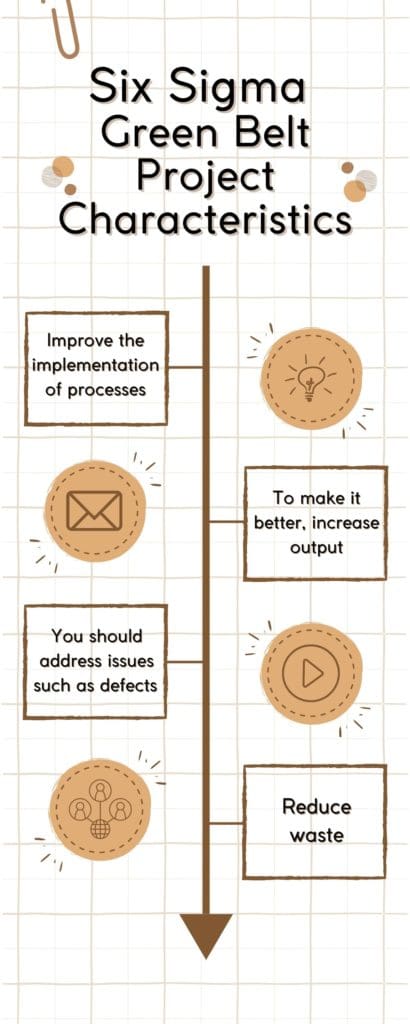 Green Belt Candidate Characteristics
They should be persevering
Even when there are changes, the team's ability to improve and function continuously should not be compromised. The green belt candidate should adapt to the changes. It can be hard to implement change. This involves overcoming cultural and technical obstacles. It is easy to become discouraged if someone struggles with resistance. A skilled green belt must understand that resistance to change can't be overcome. They must face resistance with determination and perseverance.
They should be logical and analytical
A professional green belt candidate should be able to perform statistical analysis and other mathematical concepts. These skills and attributes are essential for candidates to be able to solve problems methodically and logically. The Green Belt Training can help you understand the problem and measure it. They also identify the root causes and put controls. They must also understand the problem-solving process.
They should be passionate about improvement
While you may be able to use your analytical skills and people skills, they will not go deep enough to find solutions. They don't question the work and processes and do not seek out the root causes of insufficiency and problems. They must always strive for improvement and collaborate with their team.
Leadership skills
You are the green belt, and you manage the project. As a green belt, you will be responsible for assigning tasks and managing the team. You also need to share the results with stakeholders. Collaboration and communication must be a priority for your team. Your leadership style can be either analytical or laid back.
They need to have people skills and be able to take initiative
Green belts who are proactive should be motivated and can succeed in the company. Soft skills are a skill that is not only necessary for technical skills but also important. It's for people and communication.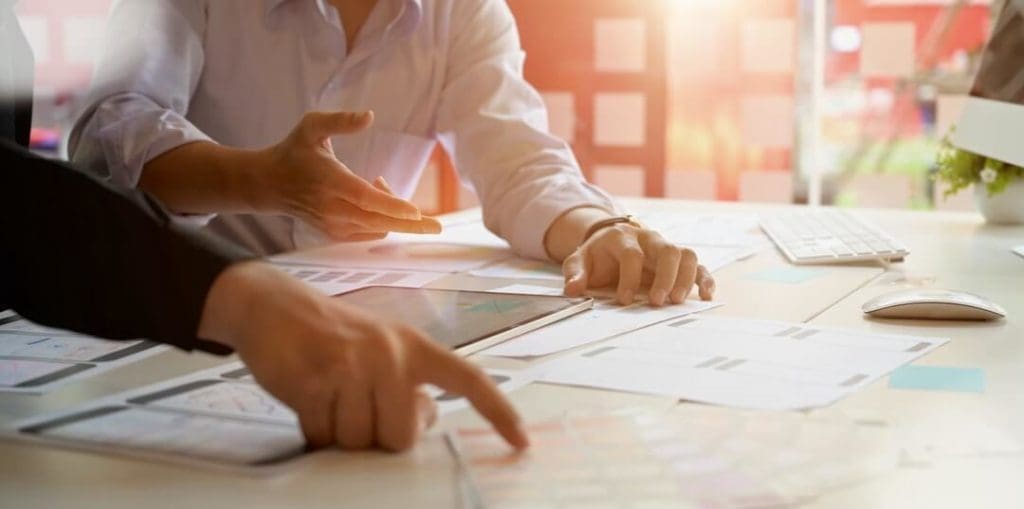 How to Build Awesome Green Belt Projects
Criteria
It is important to start simply and move on to something more difficult. This is just like learning a new language.
Select a project that is simple and can be completed in 2-3 months. It doesn't matter if the project is complex or extensive.
Find sponsors who are willing to support your project. You should ensure that you find sponsors who are willing to sponsor your project.
The sponsor should understand all the benefits and features that your project will bring. It should be clear enough.
You should have a thorough understanding of all the risks and problems associated with the project. It is important to understand the problem and how you can address it.
A team is required. For your first project, you will need 3-4 members.
You should not include other departments or team members from different sectors. Your own group of working people. You can choose a problem to solve and then work according to it.
You can choose from tools such as project charterWhat is a Six Sigma Project Charter? The project charte... Learn More..., process diagram, Pareto analysis and so on. Avoid using complex or heavy statistics.
You should make sure you have enough time for the activity.
Selection Calculator
The calculator should be used to calculate the project idea. This will allow you to determine the demand for the project as well as its lead. Let's look at an example of how all this can be applied.
Planning and Scheduling – Example
Planning and scheduling are important for office-oriented projects. It is important to plan and execute the production and release phases of your projects. Identify any wastesMuda (無駄, on'yomi reading) is a&nbsp... Learn More... that could slow down production. You can find it as simple as walking to the printer. Use process mapping to optimize it. Make a plan, and then know how to get there.
Six Sigma Green Belt training near me
Related Articles