The Lean Six Sigma Certification Belt Order
Six Sigma-certified professionals are key players in improving quality within their organization. Many of today's top organizations combine Lean Six Sigma black beltSix Sigma Black Belt A Certified Six Sigma Black Belt can be... Learn More... standardization methods with Lean manufacturingLean manufacturing (also known as lean production, just-i... Learn More... techniques to maximize efficiency and cost. 3M, Xerox, and BAE Systems are some of the companies that have successfully implemented Lean Six SigmaSix Sigma Definition: Six Sigma is a set of techniques and t... Learn More... belt colors order principles. To achieve the best results, businesses must have experts who are trained in these tools and techniques.
What do the different levels of the Six SigmaSix Sigma Definition: Six Sigma is a set of techniques and t... Learn More... belt order mean? These certifications show the role that an individual is qualified to play when it comes to completing projects and promoting good quality management practices. is an online program that offers a LeanLEAN Definition LEAN is a production method aimed primarily ... Learn More... Six Sigma certificate. allows professionals to become active participants in optimizing company culture and avoiding unplanned downtime.
Learn about each ranking so that you can develop skills to help your business run more smoothly and your career advance.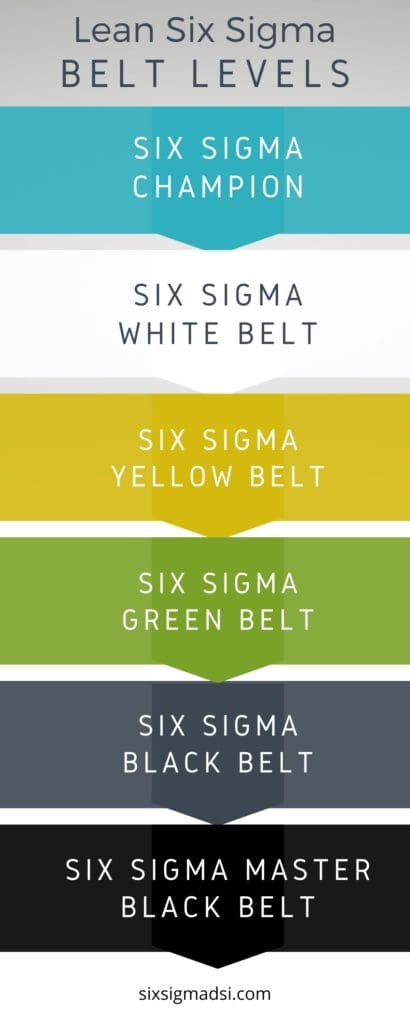 White Belt
Six Sigma White Belts are professionals who have not completed a formal certification or training program. One session that provides an overview of the relevant LSS methods and vocabulary shows employees at all levels how they can contribute to reliable, efficient outcomes. White Belts can now participate in quality management projects and tasks that involve wasteMuda (無駄, on'yomi reading) is a&nbsp... Learn More... reduction and quality management.
Yellow Belt
Yellow Belts have been exposed to Six Sigma concepts beyond what is taught in White Belt training. Yellow Belts have often attended a series of training sessions that lasted a few days, gaining the necessary knowledge to be assigned as team members. They can guide projects with a limited scope and help managers at higher belt levels.
Green Belt
To earn a Green BeltThe Six Sigma Green Belt is a certificate that professionals... Learn More... certification, professionals must attend a course that introduces Six Sigma methods to develop and improve products, services, and processes. The frameworks they learn include DMAICDMAIC is an abbreviation of the five improvement steps it co... Learn More..., which stands for Define, Measure Analyze Improve, and Control. This improvement cycle lays out steps that can be used to analyze a processThere are many ways to organize your lean six sigma processe... and identify problems. It also includes evaluating relevant data.
Green Belt training can be valuable for people in positions such as project management, health administration, or Financial Management. It will give them a better understanding of performance metrics, and tools like Control Charts and Failure Modes & Effects Analysis (FMEA). Professionals are prepared to lead projects after certification. They can make connections between LSS concepts, and their organization's goals. They can use leadership tools, eliminate waste and gain valuable insights from data.
Black Belt
Leaders can take their skills up a notch by earning the Six Sigma Black BeltSix Sigma Black Belt A Certified Six Sigma Black Belt can be... Learn More... certificate. The advanced training is designed for professionals who have a solid understanding of LSS. They will learn how to lead, explain and plan more complex projects and organizational changes. In a Black BeltSix Sigma Black Belt A Certified Six Sigma Black Belt can be... Learn More... course, students gain a thorough understanding of how they can drive organizational-wide change, analyze statistics and deploy Lean principles, as well as supervise projects for Green Belts.
In a Black Belt course, professionals gain practical experience and demonstrate their knowledge by completing a project with their employer or nonprofit organization. Students learn how to improve their business productivity and customer satisfaction by establishing a project chart, collecting data, and using Six Sigma tools.
Black Belt in Lean Six Sigma holders can then go on to manage teams, supervise results, and execute LSS. They can have a major impact on the productivity of a company by implementing quality improvement and lean initiatives.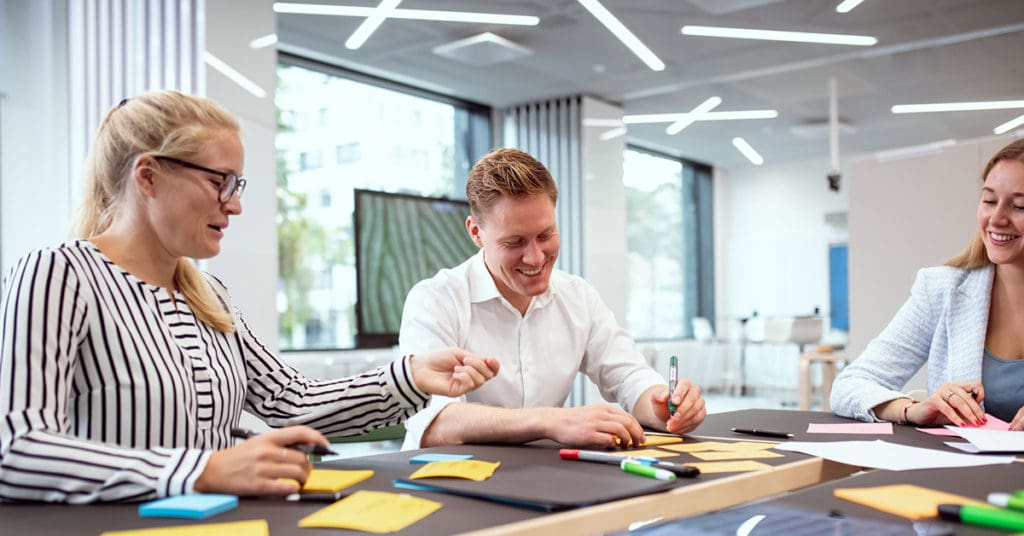 Master Black Belt
A Master Black BeltThe utmost level in the Six Sigma hierarchy is the Master Bl... Learn More... is a seasoned Black Belt who has strong leadership and problem-solving skills. This designation shows that the expert has a broad perspective on strategy across a business and coordinates teams across
Champion
A championA Champion in a Six Sigma initiative is the executive sponso... Learn More... is a manager at the upper levelStatistics level A statistics level is the value of input in... Learn More... who oversees LSS strategy and implementation. Champions, based on the goals set by senior management, ensure that all initiatives aimed at reducing waste and removing defectsMuda (無駄, on'yomi reading) is a&nbsp... Learn More... are aligned with the company's growth needs. These managers, with the help of Master Black Belts track and mentor leaders who are involved in LSS.
Are you interested in starting a Six Sigma Certification?
Let us know in the comments! We can help.
Related articles