Table of contents
Lean Six Sigma in Healthcare: What Is It?
There are many administrative tasks to be aware of if you want to work in the healthcare industry. Knowing how to maintain a hospital or medical office safely and smoothly is essential. Understanding lean six sigmaSix Sigma Definition: Six Sigma is a set of techniques and t... Learn More... is a vital part of the healthcare industry. We will explain leanLEAN Definition LEAN is a production method aimed primarily ... Learn More... six sigmaSix Sigma Definition: Six Sigma is a set of techniques and t... Learn More... and Lean Six Sigma for health care.
What is lean six-sigma? Lean Six Sigma is a worldwide methodology. It is a management philosophy that aims to reduce wasteMuda (無駄, on'yomi reading) is a&nbsp... Learn More... and increase productivity. It combines Six Sigma and Lean Management, which is why the name was given. Six Sigma, as the name suggests, is a method that identifies inefficiencies or variations in manufacturing or business so they can be fixed. Lean management refers to reducing waste. This could be in the form of time, products, or talent.
Lean Six Sigma, which can be summarized as "Lean Six Sigma," is a team-based method used in different industries to improve performance, efficiency, safety, and productivity. The principal goals of Lean Six Sigma are to identify and fix problems or defectsMuda (無駄, on'yomi reading) is a&nbsp... Learn More... and increase efficiency.
These principles can be applied to many industries, including healthcare. Amesite provides an online course in lean six-sigma for healthcare that will help students understand how these concepts can be used in the healthcare industry.
There are many benefits to using lean six-sigma in healthcare:
Patients will have shorter wait times
Streamlined processes
Improving patient satisfaction
Reducing errors
The Healthcare industry can benefit from Lean Six Sigma to increase patient satisfaction and decrease errors. Making others feel at ease when caring for them is crucial. Patients can feel stressed if they are not efficient. It can be stressful to visit a doctor or go to the hospital. This is why giving patients the best possible experience when they require medical care is crucial. It is essential to avoid making mistakes and erroneous decisions when providing healthcare.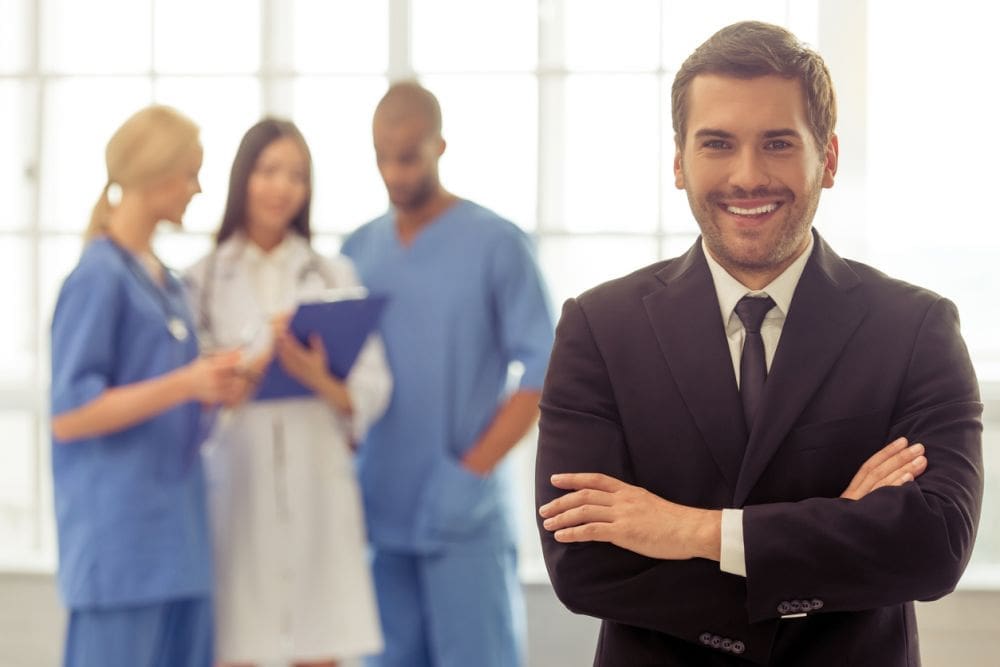 Healthcare Lean Methodology – Get rid of the "Eight Wastes"
Taiichi Ahno, Toyota's founder of lean principles, identified seven waste areas in every industry. Toyota later recalled the eighth. Although it may seem counterintuitive to apply the same manufacturing principles in hospitals, lean healthcare can be implemented and processes and systems reviewed through eight wastesMuda (無駄, on'yomi reading) is a&nbsp... Learn More....
Reduce WaitingMuda (無駄, on'yomi reading) is a&nbsp... Learn More... Time According to lean principles, waste occurs whenever employees or patients are forced to stand still. Healthcare organizations have many opportunities to increase waste reduction. These areas include waiting rooms, latecomers being turned away, appointment waiting lists, and idle high-tech equipment.
InventoryMuda (無駄, on'yomi reading) is a&nbsp... Learn More... is tied-up capital and storage costs. Inventory waste is when there are excess supplies, medications, unnecessary equipment, data that isn't necessary, and stockpiles of preprinted forms. Additionally, inventory waste increases the chance of inventory being stolen or obsolete. All employees can learn to identify excessive inventory and to find new ways to reduce it.
Reduce Defects in Healthcare to Improve Quality and Increase Reimbursement System failures, medical errors, and misdiagnoses all constitute defectA defect is a physical, functional, or aesthetic attrib... Learn More... waste in healthcare. DefectiveDefective definition in Six Sigma: A defective unit is one t... Learn More... healthcare includes conditions like blood clots and infection, medication errors, medical mistakes, misdiagnosis, and avoidable readmissions. Organizations can use lean principles to motivate employees to eliminate defectDefective definition in Six Sigma: A defective unit is one t... Learn More... waste and improve quality. This will help them to reduce costs and avoid making mistakes as payers shift to pay-for-performance models that reward/penalize results.
Transportation – Reduce the Movement of Patients and Supplies to Improve Patient FlowTransportation in healthcare refers to unnecessarily moving patients, medical equipment, and supplies. Moving patients around and running to get supplies can increase caregiver or patient injury and cause delays in care. To save time, reduce injury and improve patient flow, Lean Thinking can be used to analyze caregiver and patient movement within the hospital facility.
Avoid Injuries and Reduce MotionMuda (無駄, on'yomi reading) is a&nbsp... Learn More... Hospital workers who move in their work area that is not beneficial to patients are considered motion waste. Motion waste can be caused by hospital workers reaching or stooping to get frequently used equipment or increased walking because of poor building design.
Maximize Resources by Minimizing Healthcare OverproductionMuda (無駄, on'yomi reading) is a&nbsp... Learn More...Overproduction waste entails redundancies, creating too much of something, or creating it at inappropriate times. Healthcare organizations can address overproduction by preparing medications for discharged patients, extending hospital stays beyond what is necessary and duplicating tests.
Remove Waste from Over-ProcessingMuda (無駄, on'yomi reading) is a&nbsp... Learn More...Over-processing occurs when unnecessary work goes into treating patients. Examples of unnecessary testing include filling out multiple forms with the same information and data entry in more than one system. Lean analysis can help you identify and eliminate wasteful processes that waste time, effort, or resources. Staff can identify redundant, inefficient, or less valuable strategies by applying lean healthcare to all their operations. This will help save time and money.
Untapped Human Potential in Healthcare Waste – The Pinnacle of Healthcare Waste When healthcare waste takes up too much of a worker's time, it makes it difficult for them to utilize their creativity and talents to create work that improves patient care optimizes operations. Healthcare waste robs healthcare workers of time that could be used to pursue education, build relationships with patients or implement system-based improvements. Lean culture leads to lower costs and better care and improves employee morale.
Lean Tools in Healthcare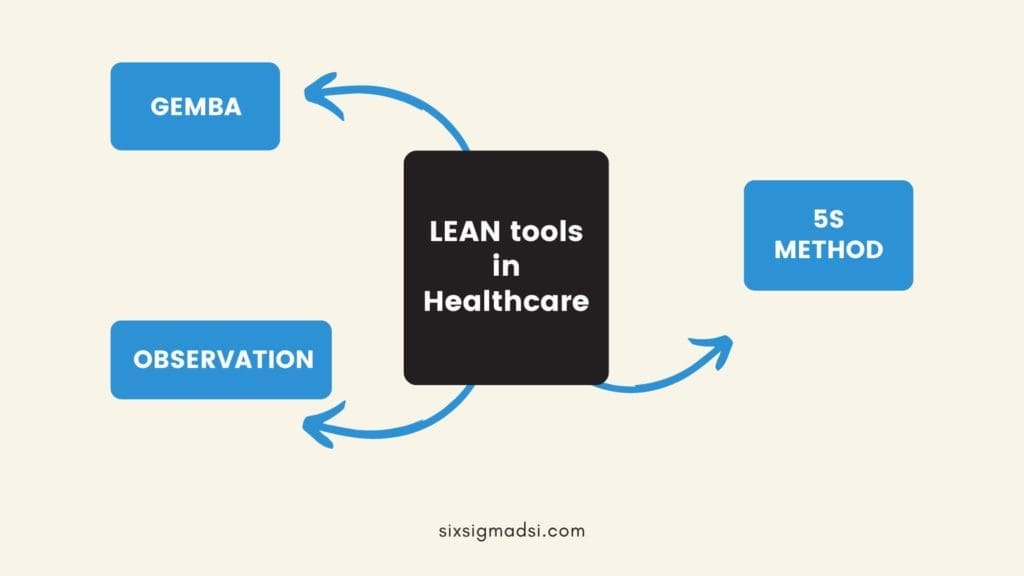 Lean Six Sigma for Health care Examples
Hospitals and other healthcare facilities are using lean principles to improve patient satisfaction, schedule appointments, decrease overtime work, processThere are many ways to organize your lean six sigma processe... paperwork, and increase clinic revenues. Here are some exciting examples of lean healthcare:
Redesigned Patient Rooms At ThedaCare, supplies, medications, and electronic-record-keeping systems were relocated into patient rooms, allowing nurses to spend 70% more time with patients. Patient safety was also improved by installing ceiling lifts in patient rooms and beds equipped with alarms, scales, and other equipment.
Crash Cart Inspections Nicklaus Children's Hospital reduced inspectionAudits are usually performed by an audit manager. They aim t... Learn More... times for crash carts from three hours to ten. This was achieved through visual optimization and the elimination of excess equipment.
Lean Scheduling – Dyad Mother/Newborn Appointments For Postpartum Care Denver Health's Eastside Clinic saw a high number of no-shows at maternal postpartum checks due to long wait times and transportation issues. The clinic combined the infant and mother's appointments to address this problem and promote patient-centered healthcare. This resulted in a drop of more than 50% in no-shows to only 15%.
Patient Safety Alert System One of many initiatives at Virginia Mason is the Patient Safety Alert System (PSA). This system allows all staff to report any patient safety concerns. All concerns reported are immediately investigated, and interventions are implemented promptly. This system has resulted in liability claims at Virginia Mason decreasing by 74% between 2005 and 2015.
Lean Principles in Healthcare
More and more healthcare providers have been using lean methods to improve their quality of care and reduce costs since the Global Lean Healthcare Summit in 2007. It has been challenging to apply concepts from manufacturing to healthcare. This required a thoughtful approach to adapting these ideas to the hospital setting.
Organizations can use various tools to implement change when applying lean principles to healthcare. It is crucial to eliminate steps and processes that don't contribute to patient satisfaction or superior care. Healthcare leaders value the perspective of front-line clinicians as they can offer new insights. Every organization member must ask, "Does it add value to the patient?" Gary Kaplan, CEO of Virginia Mason Health System, says leaders need to think beyond lean to implement change.
What Other Lean Six Sigma Healthcare Principles do you know about?
Leave them in the comments below.
Related articles