SMED (or Single Minute Exchange of Dies) is a method of reducing the time it takes to changeover (or set up) a machine. It involves identifying elements that are internal or external to the machine's operation time, then converting those elements to externally while the machine continues to run. The single-minute concept is a way to cut down on setup time. It can be done in less than 10 minutes. While not all setups can be done in one-to-ten minutes, it is possible.
Shigeo Shingo developed this method to shorten the time it takes to change dies and set up pressing machines. He was able reduce the set-up time for each exchange of dies from 1 to 2 hours or even half a day to just a few minutes. This allows an organization to run smaller batches while being more in line with customer demand.
SMED Meaning: It is important to transfer as many tasks as possible from the internal setup to the external setup. This will allow you to reduce the time required to complete internal tasks.
Only internal setup can be done when the machine's down.
Shigeo Shingo stated that the average setup time for the SMED System has been reduced by 40 percent between 1975 and 1985.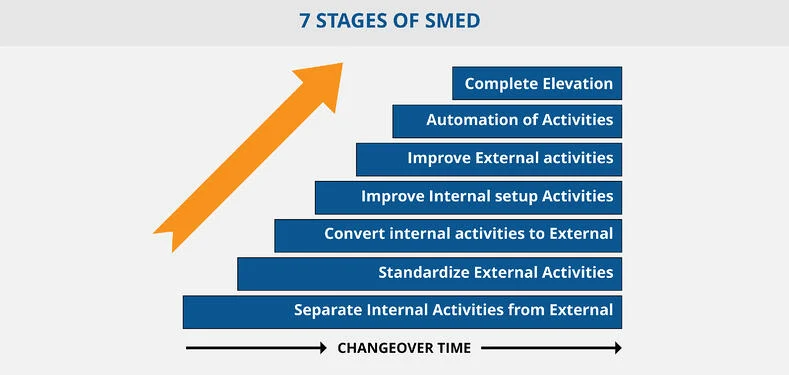 SMED Meaning: Shingo recognizes eight methods that should be considered when implementing SMED.
Operation separate internal and external set-ups
Convert an internal setup to an external one
Do not standardize the shape, but the function
Functional clamps can be used to eliminate all fasteners, or you can use functional clamps.
Use intermediate jigs
Parallel operations are recommended (see image below).
Eliminate adjustments
Automatization
Related Articles: